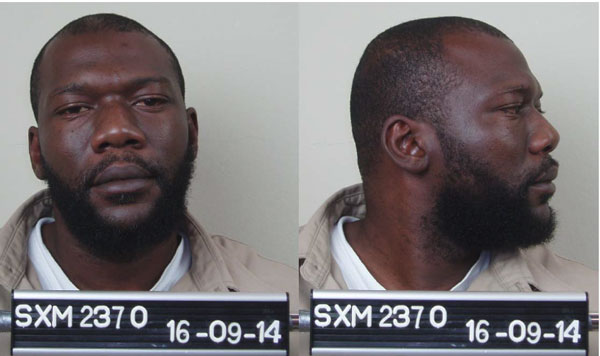 PHILIPSBURG:— Prison guards and detectives are busy searching for an escaped prisoner by the name of Kathron Fortune a.k.a "CUCHI". The escape occurred in Cay Hill on Monday February 15th at approximately 03.30 p.m. The prisoner who was taken to a doctor's clinic in Cay Hill managed to escape from the guards while waiting to be attended by the doctor. He took off running through the Cay Hill area. Shots were fired and it is unclear if the suspect got hold of a firearm or not. This suspect who has to sit a very lengthy sentence is considered to be armed and very dangerous. The suspect was last seen in the area of Cay Hill dressed in "Kaki clothing". On Monday evening the search was ongoing to recapture this prisoner.
The Prosecutors office and Police Department is asking the general public who may have information regarding the where about of the prisoner to immediately get in contact with the police via 911, # 9300 or the police station 54-22222.
WARNING:
Do not attempt to apprehend this prisoner on your own get in contact with the police as the suspect is armed and dangerous, and was convicted on a prior murder case.
KPSM and Prosecutor's Office Report
SMN News learnt that the suspect was armed and he fired shots both at the police and prison guards that was running after him. However, police spokesman Ricardo Henson said that he could not confirm if the escaped prisoner had a firearm on him at the time of the escape. SMN News further learnt that the detectives start looking at the homes and relatives of the escaped prisoner. Sources say that the escaped prisoner spoke to the mother of his child after he escaped. Cuchi was convicted to 21 years for the murder Ervin Martina in 2007. The brutal murder took place in May 2006. While police are saying that they are not sure if the escaped prisioner was armed, residents in the area said they saw the getaway killer fired shots at the prison guards when they were running behind him.
Source: St. Martin News Network Dangerous Prisoner Escaped on Monday — Residents asked to come forward with information.