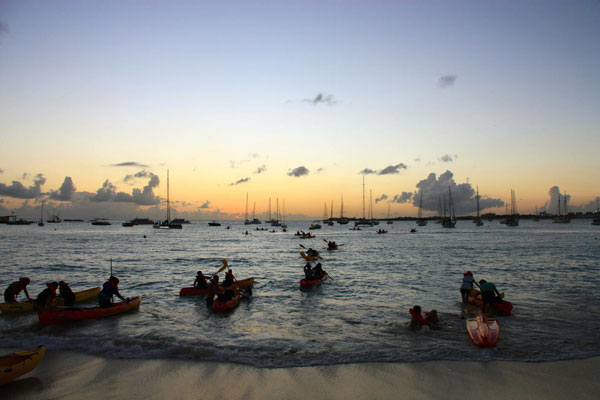 PHILIPSBURG:— Last week Environmental Protection in the Caribbean in collaboration with TriSport and FIAC hosted a Full Moon Kayak Fundraiser.
The event took place so participants could enjoy the full moon from a different perspective and to raise funds for EPIC's environmental education program. The program has been running since 2007 and offers free environmental presentations, excursions and activities to various community groups.
The fully booked fundraiser started at Kimsha beach where participants were welcomed by EPIC's environmental educator Laura Bijnsdorp and briefed by Juan Pablo from TriSport on kayaking techniques and safety tips. As the sun went down, everyone paddled towards Pelican Beach. The adept guides from TriSport and FIAC made sure everyone made their way safely to Pelican Beach. Once at Pelican Beach everyone enjoyed refreshments including a glass of Beringer wine or Miller Lite beer provided by Antillean Liquors. On the paddle back to Kimsha, participants could see the full moon clearly.
Once back on shore, everyone received a goodie-bag, which included an EPIC T-Shirt, environmental information and other items. Due to the popularity of the event, the foundation will aim to host another similar event in the next few months.
EPIC would like to thank all participants, TriSport, FIAC & Antillean Liquors for their support that led to the successful fundraiser. A total of $1060 was raised. For more information about the EPIC environmental education program and upcoming activities go to www.epicislands.org or facebook.com/epicislands.
Source: St. Martin News Network EPIC, TriSport & FIAC hold successful fundraiser.