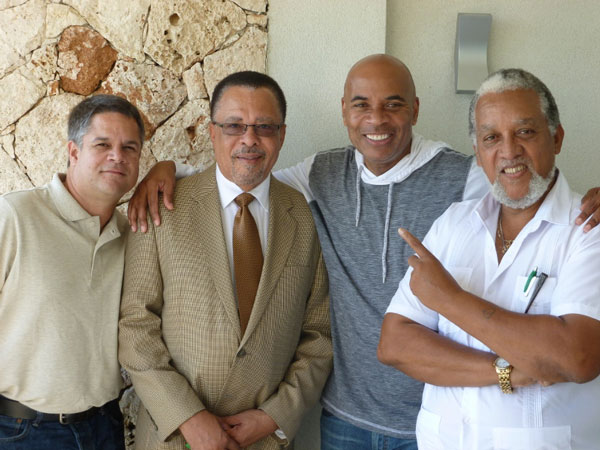 PHILIPSBURG:— Under the umbrella of the Tallahassee-St. Maarten Foundation Inc. (TLH-SXMF) and in conjunction with Photographer Hassan Kareem, Emmy Award winning international journalist and former CNN and Al Jazeera television broadcaster Tony Harris, arrived on the island over the weekend to explore marketing the destination to Celebrities among other opportunities in the area of tourism and hospitality development.
Tony Harris worked with CNN for six-years out of their headquarters in Atlanta, Georgia where for three years he also hosted his own program, "CNN Newsroom." Harris also served as New York based correspondent for Entertainment Tonight and as a prime time correspondent and host for the FOX Broadcasting news magazine, Front Page.
Through his company Merge Media, a New York based marketing/public relations consultancy, Harris, a self-described "global citizen", brings more than 30 years of storytelling and relationships as a media professional to the tourism space. On his many media assignments throughout the Caribbean, Tony identifies the unique, underlying spirit of destinations. Through vivid imagery and storytelling, he has become a trusted advocate, elevating the region in the minds of travelers, compelling them to want to visit. Tony believes that the Caribbean has become "a part of his life." He visits the region frequently and is seasoned in the history, culture and local politics.
Arthur Lugisse, Director of the Tallahassee-St. Maarten Foundation Inc. (TLH-SXMF) along with Bernard Hunt and other members of the foundation, are very excited with the concept of Celebrity-VIP Tourism SXM 2016 and what marketing and tourism opportunities exist to promote this niche market.
Sint Maarten serves as a hub for the neighbouring islands of Anguilla, St. Barths, Saba, St. Eustatius and St. Kitts & Nevis. A number of celebrities during the tourism season spend part of their holiday on the islands of St. Barths, Anguilla and Sint Maarten, but TLH-SXMF, which is all about promoting Community, Culture and Commerce, is of the opinion that more can be done to garner a larger share of the market.
"Our destination has much to offer. We need to emphasize and sell the experience of holidaying on Sint Maarten and on the nearby islands, which each have something unique and authentic to offer. The tourism and hospitality sector is always changing, and a destination needs to be able to meet the needs of the customer. There are many destinations that sell sea, sun and sand, but we have to sell the authentic Sint Maarten experience which would incorporate the surrounding islands.
"I foresee many opportunities ahead, but we need to reach out and grasp them. We need to be aware of the trends. Millennial travellers will become the core customer within the hospitality and travel industries over the next five to 10 years according to the Caribbean Hotel & Travel Association. We have to make use of the latest digital technology, and under the umbrella of Merge Media and its Chief Executive Officer Tony Harris, we will be able to turn opportunities into reality.
"I would like to take this opportunity to thank Sonesta Maho Beach Resort & Casino for covering part of the visit of Tony Harris which includes lodging at the latest property addition the Sonesta Ocean Point. I would also like to thank the Government of Sint Maarten for its contribution to Tony Harris's visit," Arthur Lugisse, Director of TLH-SXMF said on Sunday.
Harris under the coordination of the Tallahassee-St. Maarten Foundation Inc. will be visiting and touring various parts of the destination during his one-week stay, which also includes a visit to the island of Anguilla on Thursday.
On Sunday evening Harris has dinner with Prime Minister William Marlin and meets with the Minister of Tourism & Economic Affairs Ingrid Arrindell on Wednesday.
Source: St. Martin News Network Exploring Opportunities for Celebrity-VIP Tourism with Former CNN/Al Jazeera Tony Harris Television Broadcaster.