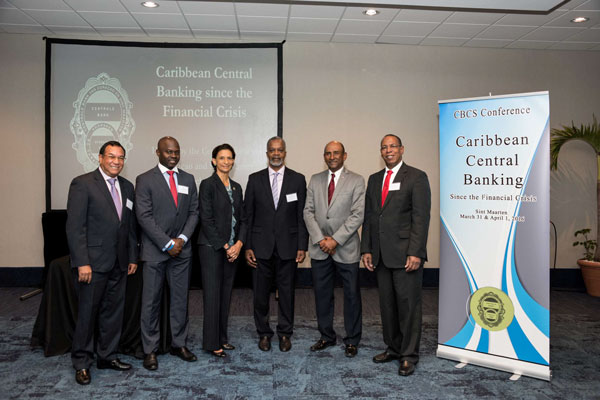 PHILIPSBURG:— President of Parliament Sarah Wescott-Williams and Minister of Finance Richard Gibson jointly witnessed the establishment of a foundation named the 'Financial Institute Sint Maarten' during the central banking conference held at the Sonesta Maho on March 31 and April 1, 2016. The foundation is aimed at providing training courses focused on the needs of Sint
Maarten's financial and public sectors. The foundation will identify the training needs of the financial and public sectors and design specific programs that cater to these needs. In this way, it will support the government and Parliament's goal of elevating the knowledge level in these sectors, to the benefit of Sint Maarten's people. This project is a result of discussions between the President of the Centrale Bank van Curacao en Sint Maarten and the President of Parliament, going back to her tenure as Prime Minister of Sint Maarten. The President of Parliament and Minister of Finance, both fervent supporters of continued education, said they will do their utmost so that the foundation becomes operational this year.
Source: St. Martin News Network Financial Institute Sint Maarten.