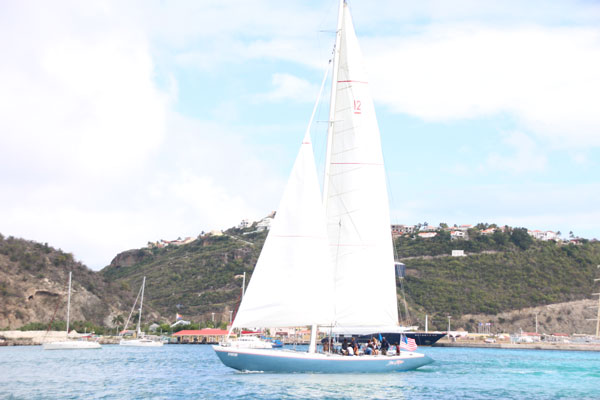 PHILIPSBURG:— The K1 Britannia Foundation in collaboration with 12 Metre, organized a fun sailing challenge for youths in foster care on Saturday February 20th.The Foster Care Program is a core part of the K1 Britannia Foundation activities on St. Maarten.
The youth gathered anxiously at Bobby's Marina to see which sailing boat they would be sailing on during the 12 Metre Challenge. The 12 Metre Challenge is one of the most unique tours on the island where persons are trained to be the boat crew alongside 3 experienced crew members.
After boarding the ferry, the 13 youth, two foster home representatives and four K1 Britannia Project Managers were split up in two teams, namely the "Stars and Stripes" with 10 persons and the second group "Truth North" with 9 persons.
As the group was split, the friendly rivalry began which meant a good race was ahead. Various positions were given out based on size, strength and age such as primary grinders, main grinders, back grinders and main sheet trimmer for this intense boat race.
Both boats headed out to the starting line and throughout the race, each went toe to toe looking for that edge. At the last leg of the race "Truth North" turned the corner and was back in front again, crossed the line first and was declared the winner. Everyone on the boat erupted with loud cheers, making sure 'Stars and Stripes" heard them.
Once back on shore, everyone was generously treated to finger foods at 12 Metre restaurant and were given T-shirts saying "Stars and Stripes" or "True North" as a gift. One of the foster kids of the winning team stated "It feels extra good to win because the first time I didn't win". Talking about the importance of teamwork as a sail crew the youngster continued "The teamwork was good, we needed everyone on the team for us to have progress". The important lesson this sailing trip taught everyone was emphasized by Chiaira Bowers, Project Manager at K1 Britannia Foundation "During the trip I saw the primary grinders working tirelessly in harmony while the back grinders, main grinders and main sheet trimmers did their tasks. It really showed the importance of working together to reach a common goal, in this case to have fun while staying on course and winning the race."
Positive activities like these for the foster kids are vital in their development as young people. "We would like to extend a heartfelt thank you to 12 Metre for their continued support of the foster youth and young offenders in St. Maarten" said Chiaira Bowers. Persons looking to be a positive impact on our island can sign up as a volunteer on https://k1britanniafoundation.org/volunteer/. For more information find us on Facebook as "The K1 Britannia Foundation".
Source: St. Martin News Network Foster Kids Sail The 12 Metre Challenge For Fun Day.