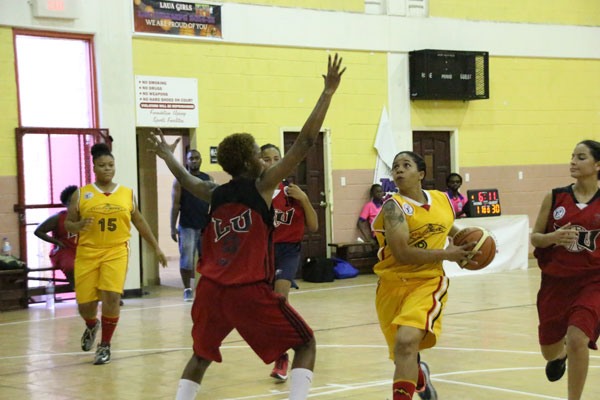 SUCKER GARDEN:— Week 12 of the Ladies Basketball Championship continued with 2 games last Sunday in the senior division at Melford Hazel Sports Complex/
The first senior game of the day saw Learning Unlimited go up against Bush T Remedy. Even though both teams were shorthanded with only 5 players, Bush T imposed their will on Learning Unlimited and led 27-8 after the first quarter and 61 to 14 at the half. Bush T continued to expand on their lead and won handily 109-21. Bush T Remedy was led by Jacqueline Hodge with 40 points and Shandria Lake with 33 points. Learning Unlimited was led by Shama Flurton with 11 points and Pritika Lakhwani with 6 points.
The second game of the afternoon saw Lightning taking on Thunderz. This game was competitive throughout and had Lightning leading 34-26 at the half. Lightning expanded their lead to 11 at the end of the third and continued to put pressure on Thunderz and won 60-41. Lightning had a balanced attack with Jamaiah Newton – Herbert and Selah Fleming with 11 points and Micaela Galva and Tsjaquilla Jeffrey with 10 points. Thunderz was led by Claudia Fleming with 19 points and Joyette Lloyd with 12 points.
The senior division standings are Lightning at 10-2, Thunderz at 9-3, Bush T Remedy at 3-9 and Learning Unlimited at 2-10.
Games continue this Sunday for U16 teams at 2pm and senior teams at 3pm as Lightning take on Learning Unlimited and at 5pm as Bush T Remedy take on Thunderz.
Game Highlights, pictures, game scores and schedule can be viewed on the Facebook page 'Ladies Basketball Championship'. Highlights and full games can be seen on the Youtube page www.youtube.com/walichibasketball and short highlights can be seen on the Instagrampagewww.instagram.com/ladiesbasketballchampionship
Source: St. Martin News Network Hodge scores 40 points to lead Bush T Remedy to huge win while Lightning balanced attack earns them win over Thunderz.