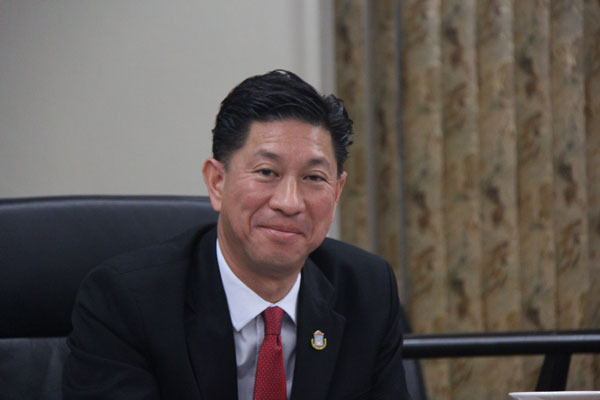 PHILIPSBURG:— Minister of Labor, and Health Emil Lee announced on Wednesday at the Council of Ministers press briefing that inspectors found a business place that was operating without a business license and that business place had 15 persons in their employment, 11 of which are undocumented.
The Minister has issued a call on businesses that are having a hard time getting their licenses because he is more than willing to look into the policies and procedures. He said his Ministry is working on plan in order to get people to follow compliance, simply because they are a number of persons working on the island without proper working documents. He said another project his Ministry is working on is to ensure that all workers have health insurance. Minister Lee that the objective is to improve compliance, therefore they have to further educate the people especially businesses and workers. He did agree that sometimes, some people are not able to fully comply simply because procedures within government is way too bureaucratic. Minister Lee said that his Ministry is also working on a policy that will give the Ministry of VSA the right to issue fines to law breakers. He said currently the inspectorate could only issue a warning which in his view is a slap on the wrist or make up a process verbal and send it to the prosecutor's office for them to study and decide what type of actions to take. He said the PV process does have issues while the warning is just a slap on the wrist therefore there is need to find a middle range which would be far easier to execute.
Minister Lee also stated that workers whether documented, or undocumented could be registered at USZV because workers do not have to be legal to have health care. Another project the Ministry of VSA is working on is getting everyone to obtain health insurance. He said he is currently working with an insurance company that could up with an affordable package to offer to taxi/bus drivers, vendors and other persons that are self-employed. He said that in the future the Ministry will investigate all medical evacuations for uninsured persons. He said if the person is working for any company and should have been insured then government will not take up the expenses but the company that the employee/patient has been working for will have to foot the bill.
He urged those persons that are having problems obtaining the necessary documents to fully comply to contact his office or the department of labor.
Source: St. Martin News Network Inspectors found a business place that was operating without a business license.