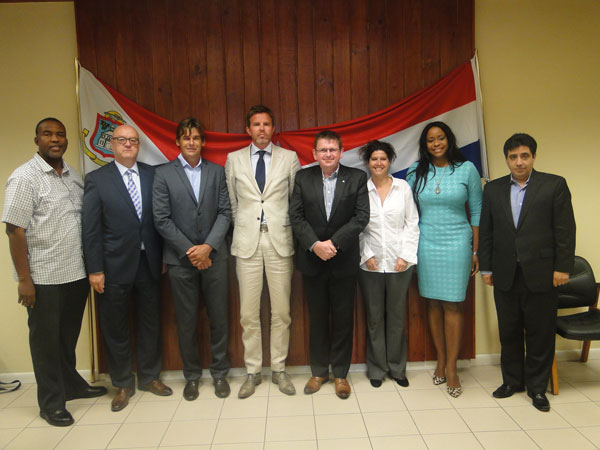 PHILIPSBURG:— On Wednesday March 9th 2016 a team from the Interpol Cybercrime Capacity Building Program in Latin America and the Caribbean represented by Mr. Adrian Acosta ( Buenos Aires) and Mr. Steve Honnis ( Singapore) met with the Interpol representative on Sint Maarten and representatives from the Public Prosecutors Office and Police Department. The program in question seeks to enhance the capacity of targeted beneficiary countries in order to prevent, detect and respond to cyber threats using the latest techniques and field technology.
Target countries are:
Antigua and Barbuda, Aruba, Bahamas, Barbados, Belize, Colombia, Costa Rica, Cuba, Curacao, Dominican Republic, Dominica, Ecuador, El Salvador, Grenada, Guatemala, Guyana, Haiti, Honduras, Jamaica, Mexico, Nicaragua, Panama, Peru, Sint Maarten, Sint Kitts and Nevis, Sint Lucia, Sint Vincent and the Grenadines, Suriname, Trinidad and Tobago, Turks and Caicos.
In the framework of the Needs Assessment Phase, the INTERPOL project team is conducting a series of regional assessment visits to the beneficiary countries, including Sint Maarten. The aim of this visit is to undertake a Rapid Cyber Assessment, which will survey existing infrastructure available to our law enforcement agencies to counter cybercrime and meet with key stakeholders. The overall aim of this exercise is to tailor activities in the framework of this programme, including training and operations, to most appropriately meet regional needs.
Source: St. Martin News Network Interpol Team visits Sint Maarten.