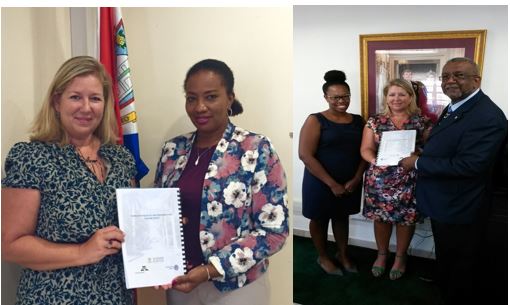 PHILIPSBURG:— The Minister of Justice commissioned an investigation on juvenile crime on Sint Maarten. This is because regular concerns have been expressed about the increase in juvenile delinquency in Sint Maarten, while the official data from the Prosecutor's Office and the police does not reflect this increase. The research was conducted by Emma Merckx and Lieke Buurman, both graduate students of the Master Youth Law. They were guided by the Prosecutor's Office in St. Maarten.
High schools, the police, the Bureau of Statistics and the Truancy Office cooperated with the research. Furthermore 460 high school students from the fourth grade have filled out a survey. The research was done over a three month period, from December 2014 till February 2015. In those three months the police reported 39 incidents with 53 suspects involved. Assault is by far the most reported incident, followed by theft and drug crime. During the same period 85 incidents, involving 116 students were reported by the high schools. The most frequently reported incidents were assault, threat and theft. Of the 460 fourth grade high school students that filled in the survey, nearly half of them reported to have assaulted someone at some point in time. The students indicated that according to them assault is the most committed incident among high school students, followed by destruction and theft. Many students reported that they have not been punished for their acts. According to their own survey, the students that reported delinquent behaviour have slightly more often repeated a class, have been suspended more times, skipped more classes, drink more alcohol and more often use drugs. The research shows that in most cases it's the school that punishes the student that committed an punishable act. The most common penalty is a suspension.
According to youth prosecutor Karola van Nie this is however not always the most effective intervention. Suspension can lead to expulsion, which can lead to more and severe criminal behaviour. But without a police report the Public Prosecutor cannot prosecute, while in juvenile criminal law lots of different effective interventions are possible, like a training, community service or youth probation by the Court of Guardianship. This also applies for enforcing the Truancy law. The research shows that skipping classes happens a lot, but truancy is not always well registered, which means that the truancy officers are not able to write up a police report for the Prosecutor's Office.
The research report has been officially offered to the Minister of Justice as well as to the Minister of Education. Both Ministers expressed that they recognize the results of the research and expressed their commitment to work together when it comes to dealing with youth crime. The full report can be downloaded from sintmaartengov.org.
Onderzoek naar jeugdcriminaliteit op Sint Maarten
De Minister van Justitie heeft een onderzoek laten uitvoeren naar jeugdcriminaliteit op Sint Maarten. Reden hiervoor is dat geregeld de zorgen worden uitgesproken over de toename van jeugdcriminaliteit op Sint Maarten, terwijl de cijfers van het OM en de politie deze toename niet laten zien. Het onderzoek is uitgevoerd door Emma Merckx en Lieke Buurman, beiden afgestudeerd in de Master Jeugdrecht en onder begeleiding van het Openbaar Ministerie Sint Maarten. Aan het onderzoek hebben meegewerkt de scholen voor voortgezet onderwijs, de politie, Bureau voor Statistieken en de Inspectie voor het Onderwijs op Sint Maarten. Daarnaast hebben 460 middelbare school leerlingen van 4th grade een vragenlijst ingevuld. Het onderzoek betreft een periode van 3 maanden van december 2014 tot en met februari 2015. In deze 3 maanden heeft de politie 39 incidenten geregistreerd met 53 verdachten, waarvan de meeste incidenten mishandeling betreffen, gevolgd door diefstal en drugs. De scholen rapporteren in deze zelfde 3 maanden 85 incidenten met 116 betrokken studenten, waarvan de meeste mishandeling, bedreiging en diefstal betreffen. Bij de politie is dus minder dan de helft van de incidenten die zich op de scholen hebben afgespeeld bekend, dan wel geregistreerd. Van de 460 middelbare scholieren die anoniem de vragenlijst hebben ingevuld, geeft bijna de helft aan weleens iemand mishandeld te hebben. Veel van deze leerlingen geven aan hiervoor niet te zijn gestraft. Leerlingen geven zelf aan dat mishandeling, vernieling en diefstal het meest voorkomen. De leerlingen die aangeven weleens een strafbaar feit te hebben gepleegd, zijn vaker blijven zitten, zijn vaker geschorst, spijbelen meer, drinken meer alcohol en gebruiken vaker drugs. Het onderzoek toont aan dat in de meeste gevallen de scholen zelf de incidenten afdoen met een schorsing.
Volgens jeugdofficier Karola van Nie is dit evenwel lang niet altijd de meest effectieve interventie. Schorsing kan leiden tot verwijdering van school, hetgeen crimineel gedrag in de hand kan werken. Zonder een proces-verbaal kan het OM niet vervolgen, terwijl in het kader van het strafrecht er een heel scala van effectieve interventies mogelijk kan zijn, denk aan het opleggen van een leerstraf, een werkstraf en/of verplichte begeleiding door de jeugdreclassering. Dit laatste geldt overigens ook voor de handhaving van de leerplichtwet. Uit het onderzoek blijkt immers dat spijbelgedrag onder leerlingen hoog is, maar dat schoolverzuim nog onvoldoende wordt geregistreerd, waardoor de leerplichtambtenaar niet in staat is om een proces-verbaal op te maken.
Het onderzoeksrapport is aangeboden aan zowel de Minister van Justitie de heer Kiridongo als de Minister van Onderwijs mevrouw Silveria Jacobs. Beide Ministers hebben aangegeven de resultaten van het onderzoek te herkennen en hebben hun commitment uitgesproken om bij de aanpak van jeugdcriminaliteit samen op te trekken. Het volledige rapport is digitaal te downloaden op sintmaartgov.org.
Source: St. Martin News Network Investigation on juvenile crime on St. Maarten.