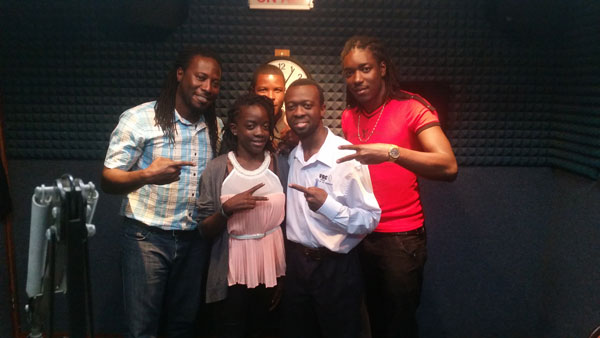 Basseterre:— St. Kitts-based gospel music record label JIFE Music has begun its media tour to officially launch the label and its roster of artists. JIFE is an acronym for Jesus is For Everybody and reflects the label's intention of spreading the gospel of Jesus Christ through music with a Caribbean and international flavor. A record label designed to showcase the best in Caribbean gospel music, JIFE Music was birthed out of a desire to proclaim the Glory of the Lord Jesus Christ, in the form of Caribbean contemporary gospel music meeting the needs of the urban music fan. JIFE Music began with a shared vision by four entrepreneurs in St. Kitts and Nevis: Andre Huie, Roy Nisbett, Lester Henry and Jermaine Willock, each with some experience in performing, producing and presenting gospel music.
The media tour began with a visit to ZIZ Radio on Tuesday February 9, 2016 where two of the artists Nyquan and Di Anointed Vale were interviewed by famed radio host G Cue. Another young and upcoming local artist Ikena was also part of the interview. Though she is not signed to JIFE Music, she is being assisted by the label to promote her new single: "You Made Me Who I am" which she wrote and was produced by JIFE Music producer Roy "Nyquan" Nisbett. The tour continued the following day with a stop at St. Kitts and Nevis' main Christian radio station Dominion Radio on Fort Thomas Road in Basseterre, with radio host Janeel Boon. Joining Ikena, Nyquan and Di Anointed Vale was Dominic Brookes, JIFE Music's other artist. The artists are expected to visit other radio stations on the island.
JIFE Music is a subsidiary of Palm Branch Media, a media production company located at Pine Garden, St. Kitts and Nevis. To date, JIFE Music has four artists: Tehillah—a vivacious gospel band steeped in the flavors of authentic Caribbean gospel music; Nyquan—a multi-talented artist and the label's executive producer specializing in various sub genres of gospel music, Dominic Brookes, a progressive young vocalist and newly signed Di Anointed Vale from Jamaica. Vale, whose birth name is Bryan Vale, is a reggae gospel artist and producer trained at the famed Edna Manley School of Arts in Jamaica. He is currently in St. Kitts doing a church tour and school ministry while also working on his album at JIFE studios. It is JIFE's mission and goal to be cutting edge and creative in the producing, packaging and distribution of gospel music while managing its artists to achieve excellence to the glory of God. As the name suggests: Jesus is for Everybody—JIFE Music is for Everybody. Visit JIFE Music's website at: www.jifemusic.com.
Source: St. Martin News Network JIFE Music begins media tour.