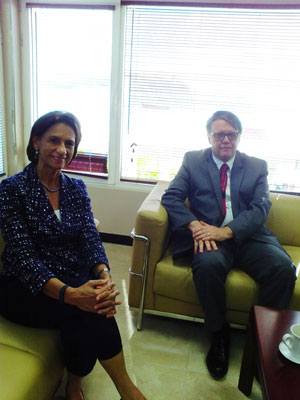 PHILIPSBURG:— Judge J (Bob) Wit during his visit to St. Maarten to preside over cases submitted to the Constitutional Court paid a courtesy visit to the Chairlady of Parliament, Mrs. Sarah Wescot-Williams (DP).
The DP leader seized the opportunity to discuss the feasibility of amending the law that governs the constitutional court of St. Maarten, hereby allowing this court to render an advisory judgment in cases of disputes between governmental bodies and institutions such as Parliament, Governor, Council of Ministers, Prime Minister, etc. Currently the scope of the constitutional court is limited to cases brought to it by the Ombudsman.
Source: St. Martin News Network Judge Wit pays courtesy visit to Chairlady of Parliament.