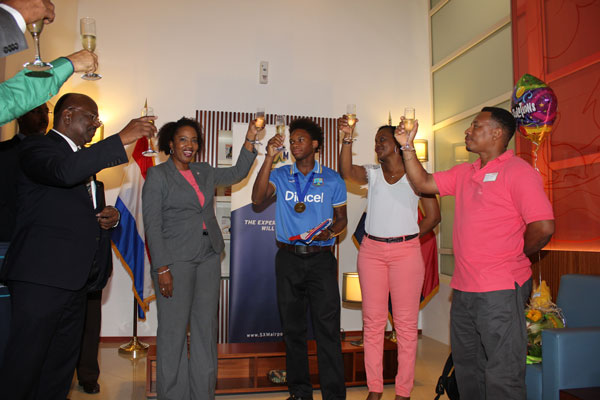 SIMPSON BAY: Prime Minister William Marlin and Minister of Education, Culture, Youth and Sports, Silveria Jacobs along with the Council of Ministers, was present to extend a hero's welcome to Keacy Carty as he returned to Sint Maarten as the Man of the Match in the Under 19 Cricket World Cup 2016.
His parents Keith and Angela Carty were also present to welcome him home along with many well-wishers and cricket fans on Sint Maarten. As the Man of the Match, Keacy Carty has made history for St. Maarten when he scored 52 runs and emerged victorious with his West Indies U-19 Team in the recently held U-19 Cricket World Cup 2016 in Bangladesh.
Source: St. Martin News Network Keacy Carty Receives Hero Welcome From The Government & People of Sint Maarten.