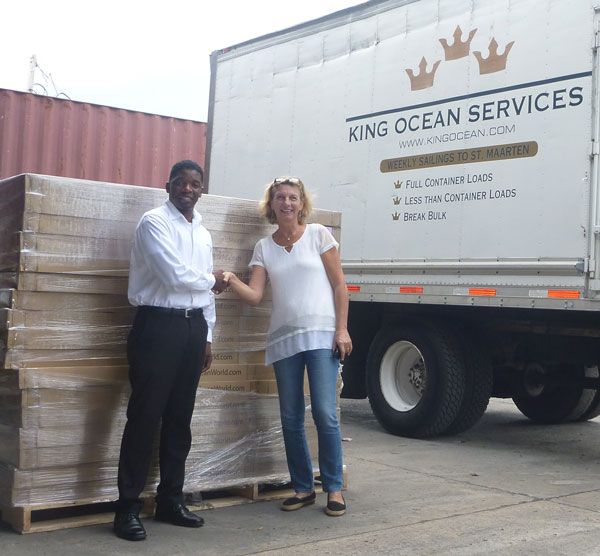 PHILIPSBURG:— During the last two years, Foresee Foundation has shipped a considerable number of Technology devices and equipment via King Ocean Shipping. This was reason for Mr. Charles Gittens, regional Manager for the Caribbean at King Ocean in Miami, to decide on sponsoring St. Maarten Schools who are part of existing projects like DigiKidz under Foresee Foundation.
Shervin Woods, Sales Executive for CTC and Local Representative of King Ocean Services, explained that he was pleased and not at all surprised to see King Ocean Services contributing to the enhancement of education on St. Maarten: "We are living in the 21st century and technologically advanced times, our Schools need to be upgraded to meet the demands of this era and not to mention to continue to equip today's students with the proper learning tools that will help them excel. King Ocean Services and CTC understands this and applauds the efforts of the Foresee Foundation in taking the needed steps to bring Digital Teaching and Learning to our schools and will continue to assist in whichever way we can".
The three DigiKidz schools have set up Tech Teams, consisting of IT persons and Tech savvy teachers, who guide the implementation and further development to ensure that policies, integration of technology in the FBE curriculum and training of staff takes place. For the upcoming months the Christian Hillside and Seventh Day Adventist schools will also work on developing a three-year strategic plan that outlines the vision and methods to fully integrate technology and ICT into the schools' operations.
King Ocean indicated to also assist Foresee Foundation in its future shipments of educational materials for schools from Miami to St. Maarten. Jose Sommers, President of 4C, showed her appreciation and thanked King Ocean for its vision and generous support.
Source: St. Martin News Network King Ocean sponsors shipping for 4C Foundation's Educational projects.