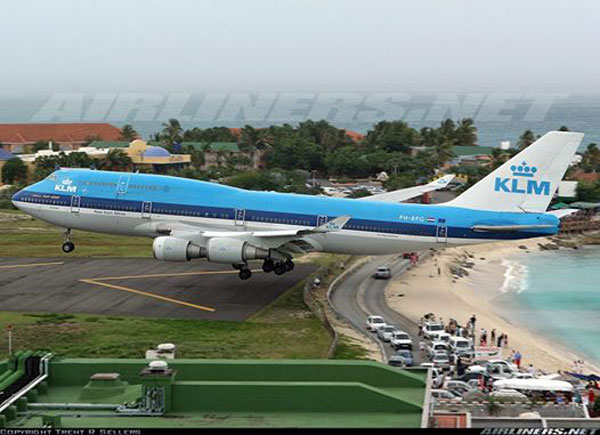 400 passengers placed in hotels for Sunday.
Airport:— KLM flight 785 had to cancel its departure from St. Maarten on Easter Sunday due to some kind of technical difficulties. The flight was scheduled to depart St. Maarten to Curacao which later had to depart from Curacao to Holland. Some 400 passengers were left stranded on St. Maarten had to be placed in hotels until Sunday afternoon if the aircraft is fixed.
According to information provided to SMN News the flight has some kind of engine problem and a part has to be changed before the flight could leave St. Maarten. It is further understood that the part will come in on Air France on Monday and repairs will begin as soon as the part arrives but there is no information as to when flight 785 will take off on Monday or Tuesday.
SMN News contacted KLM/ Air France head office for information on the cancellation of the flight and the person who answered the phone took the question but then rudely hung up. Several phone calls were placed after the first call but the agents at KLM/ Air France refused to answer their telephones. SMN News managed to reach Martijn Tenbroecke, Manager of Air France/ KLM St. Maarten who said that the aircraft encountered a technical difficulty which could not be fixed on St. Maarten and it was not safe for KLM/ Air France to continue the flight. Tenbroecke said that according to procedures and the airline's regulations they had to cancel/postpone the flight until 6pm Monday. The airline manager further explained that all passengers which he said was about 400 were placed in hotels around the island, and they are being taken care of by the hotel's staff when it comes to meals while transportation will be provided for them to go back to the airport on Monday afternoon. Tenbroecke said that while it is expected that the aircraft will be repaired and take off is expected at 6pm on Monday there is still no guarantee that will happen. He made clear that unless the aircraft is safe for flying the flight will not take off to Curacao.
Source: St. Martin News Network KLM Flight 785 cancels due to technical difficulties (UPDATED)