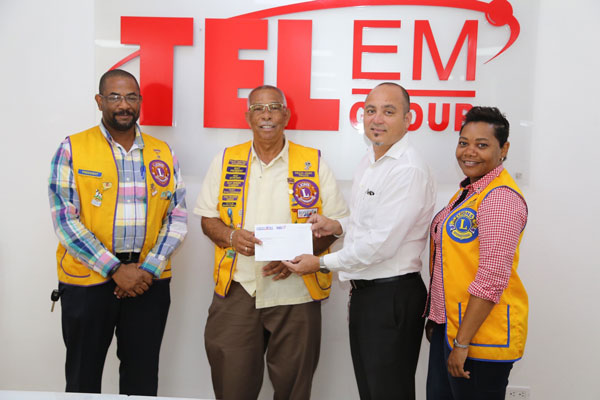 Pond Island:— Lion Club President, Eldert Louisa is urging the general population to take advantage of all the FREE health and wellness testing and information that will be available at the Lion Rudy Hoeve Health & Wellness Fair 2016 at the Festival Village, Saturday.
According to Lion President Eldert, there will be something for everyone and for all age groups, stating that the opportunity should not be missed to check the mass of information from various health organizations and groups who will be present on the day.
He made the appeal during s brief presentation at the TelEm Group building on Pond Island, Thursday, while accepting a check from TelEm Group as one of the sponsors of the annual event.
Lion President Louisa urged TelEm Group personnel and personnel of other sponsors and companies to also visit the Health & Wellness Fair in the interest of good health.
"A healthy population is a productive population and we are very happy at the Lion's Club to once again be hosting the annual Rudy Hoeve Health & Wellness Fair," said President Eldert.
He thanked Lion Wally Havertong for assisting with promotion of the event with much enthusiasm and fellow Lion, Jennifer Johnson, for assisting and being present at the presentation ceremony Thursday.
"We all look forward to welcoming some important speakers Saturday, but most of all the general population, who have an open invitation to come out and see what is happening health-wise in their St. Maarten community," said Lion President Eldert.
Source: St. Martin News Network Lions Club President calls for bumper turnout to Saturday's Rudy Hoeve Health & Wellness Fair.