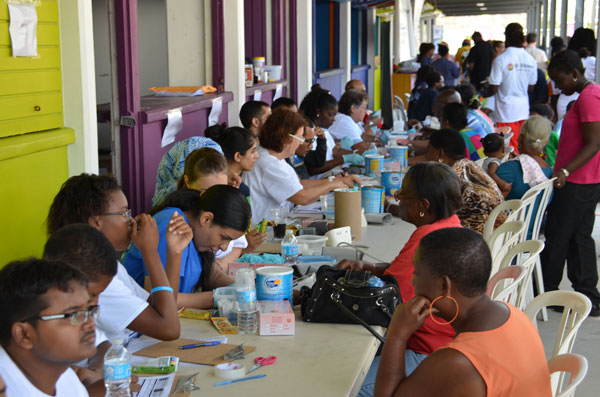 PHILIPSBURG:—- Members of the St. Maarten Lions Club are gearing up for yet another of their annual community projects. "THE LION RUDY HOEVE HEALTH & WELLNESS FAIR" which this year
will take place on Saturday March 5th 2016 at the Festival Village from 9.00 AM to 4.00 PM.
The Fair usually takes place towards the end of March but because of the Holy Week and Easter falling in the month of March this year and also not to have the Fair at the same time with the "St. Maarten Doet" activities as was the case last year, it was decided for the date of March 5th.
All the usual stakeholders have confirmed their participation again this year and are fervently working on their presentations, screening tests, distribution of important health items and display of all sorts of available health items etc.
Besides the usual Zumba work-outs there will also be exercise demonstrations for young and old because the Lions would like to have a more healthy and active community.
As has always been the case in the past all screening tests, presentations, information, demonstrations will be FREE OF CHARGE.
As the Club has also been working on offering more information on the wellness of the population, this year three newcomers have confirmed their participation.
Civil-Law Notary Meredith Boekhoudt, LL.M. will give a presentation on why it is important to make a Will and how it is constructed etc. Pediatrician Dr. Pieter Offringa will be speaking to the audience about "Asthma and Allergy"
Pharmacist Drs. Dick Luttekus will be explaining the audience on medication, administration of medication, side effects etc.Three very important topics with vital information for the general public and the Lions are urging the public not to miss these presentations.The audience will also have the opportunity to ask the presenters all the necessary questions and get the proper information.
The Lions are inviting all institutions, organizations or foundations which have not yet taken part in the Fair to contact the Lions. Participation is totally FREE. As usual the Fair will be powered and co-sponsored by TELEM.
Source: St. Martin News Network Lions Health & Wellness Fair scheduled for March 5th.