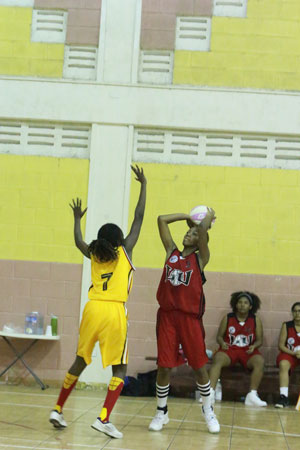 Sucker Garden:— Week 14 of the Ladies Basketball Championship continued with 2 games last Sunday in the senior division at Melford Hazel Sports Complex.
The first senior game of the day saw MGM Lightning and Bush T Remedy go up against eachother.This game was a close throughout, Bush T Remedy led 16-13 after the first quarter but Lightning led 23-21 at the half. Lightning fought hard in the 3rd quarter to outscore Bush T Remedy 19-12 to go up 42-33 after the third quarter. Bush T Remedy fought back in the fourth quarter but Lightning held on to win 54-48.
Lightning was led by Jamaiah Newton-Herbert with 24 points and Micaela Galva with 14 points. Bush T Remedy was led by Jacqueline Hodge with 19 points and Shandria Lake with 16 points.
The second game of the day saw Learning Unlimited go up against Thunderz. A bit shorthanded, Learning Unlimited started off slow and scored only 5 points while Thunderz scored 35 points in the first quarter. The Thunderz continued to dominate the game, leading 60-17 at the half and eventually winning 125-38. Thunderz was led by their two all stars with Joyette Lloyd with 49 points and Chantel Hodge with 42 points. Learning Unlimited was led by Jakisha Brooks with 34 points.
The senior division standings are Lightning at 12-2, Thunderz at 11-3, Bush T Remedy at 3-11 and Learning Unlimited at 2-12.
Games continue this Sunday for U16 teams at 2pm and senior teams at 3pm as Lightning take on Thunderz and at 5pm as Learning Unlimited take on Bush T Remedy for the last regular season games before the playoffs.
Source: St. Martin News Network Lloyd & Hodge score 40+ points each to lead Thunderz to blowout win in Ladies Basketball Championship.