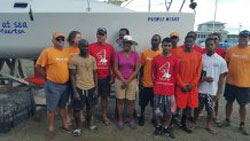 SIMPSON BAY—- Minister of Education, Culture, Youth and Sports The Honorable Silveria Jacobs attended the launching of the 27 ft. wooden boat, Purple Heart, built from scratch by 9 students of the Milton Peters College at the St. Maarten Shipyard in Simpson Bay on Saturday morning.
This initiative was a cooperation between the Marine Industry partners headed by Garth Stein, Kidz at Sea program and the technical sector of the school. In previous years groups of students had made smaller boats from kits provided.
Minister Jacobs was quite impressed with the workmanship displayed during the building of the boat and stood in complete awe of the finished product with rigging and masts at the ready. The boat boasts a smooth white finish which with assistance from professionals at the Shipyard.
A team made up of builders and sailors are students of MPC and 1 from St. Dominic High as a part of the Kidz at Sea program and will be taking part in this year's Heineken Regatta, which the Minister considers a wonderful historical feat especially for the first time builders.
The Minister wishes to thank the various businesses in the Marine Industry which have sought to educate and involve our local youth in many aspects of the industry to garner their interest in finding meaningful employment as well.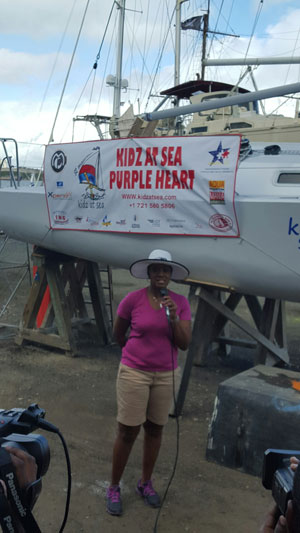 The Milton Peters College teachers, management and staff must also be commended for making great use of this opportunity to learn through experience which the students were able to benefit from. Several expressed an interest in working in the industry and one young builder, Busby, also has dreams of owning his own shipyard. The students also told of another ex MPC student Shaquille Walker, who is currently studying and working on rigging and masts overseas, an interest he got as part of the Kidz at Sea program.
Congratulations to all involved in making this a great success. We look forward to seeing this homemade boat sailed by its youth crew sailing in the upcoming Regatta.
This is a shining example of community cooperation which is key to our country's continued progress.
Source: St. Martin News Network Minister Jacobs Attends Purple Heart boat launch.