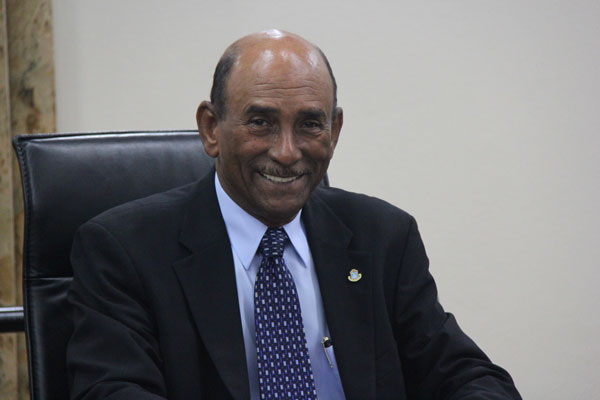 PHILIPSBURG:— Minister of Finance Richard Sr announced at the Council of Ministers press briefing on Wednesday that he met with the interim director of the Princess Juliana International Airport to discuss the concession fees the airport intend to impose on inbound cargo. The Minister of Finance said that he asked the interim director to refrain taking that course and to find another format. Minister Gibson said he made it clear to the interim director of PJIAE that the only person and Ministry that can impose taxes is his Ministry and him as Minister of Finance.
Gibson said what PJIAE is doing clashes with what the Ministry of Finance is trying to do since there is a leak in the system regarding what government should be collecting as taxes. The Minister said right now there is a substantial reduction in sales on St. Maarten since many people are now importing the goods they want from overseas. He said because of this the 6% TOT is not paid on the items imported to St. Maarten by residents. He said this is affecting the local businesses since sales is declining drastically. Minister said some businesses reported that their sales declined as much as 30% which he described as alarming.
The Minister said one of the things government has to do is try to impose the 6% TOT on goods that are brought in by private citizens since the law is there on the books for the TOT.
Minister seeking to obtain St. Maarten assets – NAF 58M
The Minister said he travelled to Curacao and met with the Minister of Finance of Curacao to further discuss the assets that is due to St. Maarten. Minister Gibson said that NAF.58M owed to St. Maarten. He confirmed that the monies when collected will go to APS based on the agreement government have with APS. Minister Gibson said that they also have to make contact with the Netherlands since the BES islands also have shares. The Minister said that Curacao expressed their desires to buy out the shares St. Maarten has in Cpost. He said St. Maarten has 7.8% in shares. He said St. Maarten have another Naf.4M in another company that is inactive. Minister Gibson anticipated the process will take about two months before it is completed.
Source: SMN News Minister of Finance Richard Gibson Sr. met with interim director of PJIAE on concession fees for inbound cargo.