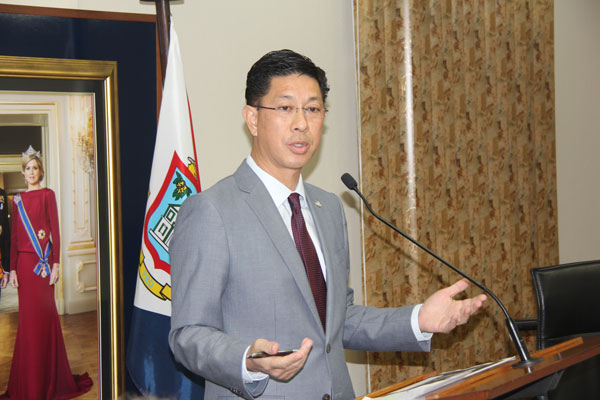 PHILIPSBURG:— Minister of Health and Labor Emil Lee lashed back at Member of Parliament Cornelius de Weever who said that the current Minister Health is not proactive enough in tackling the Zika virus. Minister Lee said he is not in the habit of responding to what others say but in this case the statements made by the former Minister of Health is to try and create fear in the community for his own political gain while he is acting irresponsible by making unfounded statements.
Minister Lee said that based on the statements the Member of Parliament made in his press release it appears as though he has lost confidence in the civil servants working in the Ministry. Minister Lee further explained that he met with the various department heads and discussed several options on how government intends to tackle the breeding grounds for mosquito. He said he even went on a field trip with the civil servants and saw some sites where there is sewage water and those that has car wrecks and government chose to contact the owners of these properties and gave them a timeline in which they must clean up their properties. Asked when would CPS start it's fogging the Minister said that there are some issues regarding the fogging because the department has to first decide on what pesticide to use for fogging, while they are trying to use a more effective way by getting people to clean up their places in order to contain the breeding of mosquito. "One has to realize that spraying only kills the adult mosquito while the larva that are in water and other sites stays there and continues to breathe. Despite the issues with fogging the Minister promised to have the department publish their schedule on fogging in the very near future.
Source: St. Martin News Network Minister of Health Emil Lee fires back at MP De Weever on statements made on Zika Virus.