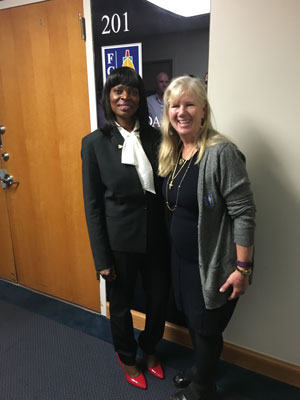 GREAT BAY (DCOMM):— Minister Hon. Ingrid Arrindell of the Ministry Tourism, Economic Affairs, Traffic and Telecommunications (Ministry TEATT), met on Thursday in Miami with President of the Florida Caribbean Cruise Association (FCCA) Michele Paige.
The FCCA is a not-for-profit trade organization composed of 19-member cruise lines operating more than 100 vessels in Floridian, Caribbean and Latin American waters.
The FCCA works with governments, ports, and all private/public sector representatives to maximize cruise passenger, cruise line and cruise line employee spending, as well as enhancing the destination experience and the amount of cruise passengers returning as stay-over visitors.
Minister Arrindell was introduced to Paige as the new Shareholder Representative of Port St. Maarten.
During the meeting, Paige was informed about the priorities for the Ministry of Tourism, Economic Affairs, Transport and Telecommunications.
Other points that were discussed and where information was exchanged: Destination Sint Maarten cruise figures; Rain Forest Project; Zika Virus and the Cruise Sector; Marketing FCCA-Sint Maarten; and Shore Excursion Concessions.
Minister Arrindell described the meeting as very informative and is looking forward to following up on a number of the points that were discussed with FCCA President Paige.
"Tourism is the foundation of the Sint Maarten economy. I found it very important to meet with the President of the FCCA to formally introduce myself as shareholder representative, but also to express our plans where it concerns cruise tourism and the overall tourism product.
"This visit was also an opportunity to get updates with respect to a number of matters. The FCCA and its member cruise lines are a strategic partner where it concerns our national economy, and we must continue to maintain a close working relationship in the interests of all," Minister Ingrid Arrindell said on Friday.
Also participating in the operations meeting were Port St. Maarten Supervisory Board Chairman Humphrey Mezas and Chief Executive Officer Mark Mingo.
Port St. Maarten accommodated 1,901,617 cruise passengers in 2015, and is the #1 cruise port in the Caribbean, the second year in a row according to Cruise Fever.net readers who were asked to vote on the best cruise ports in the Caribbean in the 2015 Cruise Fever Fan Awards.
The FCCA was created in 1972 to provide a forum on tourism development, ports, safety, security and other cruise industry issues.
Source: St. Martin News Network Minister of Tourism Arrindell meets with FCCA regarding State of Affairs of Cruise Industry