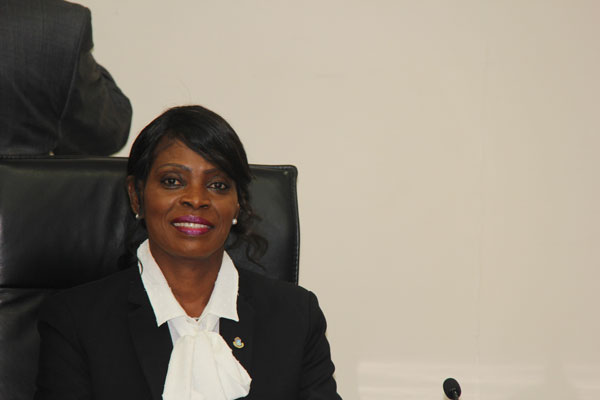 GREAT BAY (DCOMM):— Minister Hon. Ingrid Arrindell of the Ministry Tourism, Economic Affairs, Traffic and Telecommunications (Ministry TEATT), said the destinations attendance and presence at the 35th Annual Colombian Association of Travel and Tourism (ANATO), was to show continued commitment to the Latin American market; to maintain the destinations presence; and to further expand and get a larger share of the market.
ANATO which is organized by Vitrina Turistica, was held at Corferias, Bogota, Colombia from February 24 to 26. The tourism trade fair attracted representatives from Asia, the Middle East, Latin America, the Caribbean and North America.
The St. Maarten Tourist Bureau had a joint booth with the Anguilla Tourist Board. At the three-day event, Minister Arrindell met with tourism partners Anguilla and St. Martin to review and discuss the 2016 Memorandum of Understanding, and to strategize a cooperative marketing strategy.
Minister Arrindell also met with representatives from COPA Airlines to discuss what needs to be done to maintain the current airlift between the destination and Panama, and how to further develop the Colombian market.
Meetings also took place with Operando Tour Operator which has been promoting the destination. The Minister also met with Tour Operator Alvero Velez, and with representatives from Avianca Airlines with respect to the possibility of servicing the destination. Follow-up discussions will take place in early 2017.
Minister Arrindell was informed that Avianca was not considering any new destinations at this point in time due to devaluation of the Colombian peso, but did say that Colombians loved Sint Maarten's beaches and nightlife, and once the economy improved in Colombia, they would be open to further discussions.
The strong US dollar was seen as a challenge for destination Sint Maarten, making it more expensive for tourists while all inclusive packages in the Dominican Republic and Mexico were cheaper for Colombians and easier to sell.
Colombian tour operators did highlight the lack of Sint Maarten hoteliers being present at the tourism conference, with the exception of Divi Resorts and Sonesta Maho Beach Resort and Casino.
"Other Caribbean islands were making a push for the Colombian market. Some had booths for the first time, such as Barbados and The Bahamas. Barbados is also footing the bill for a charter flight to the island with Avianca.
Source: St. Martin News Network Minister of Tourism Arrindell says attendance of Colombian ANATO Trade Show was to show commitment.