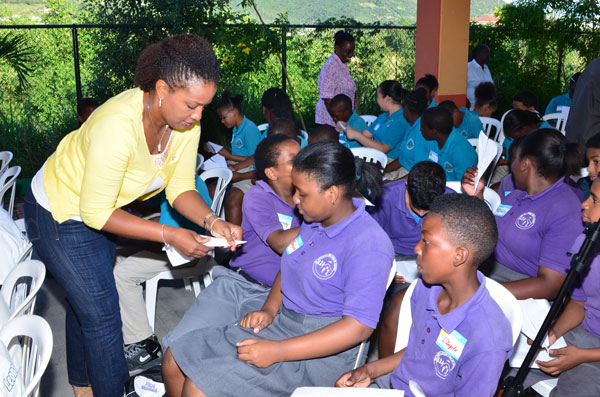 PHILIPSBURG:— The Ministry of Education, Culture, and Youth Affairs held a Motivational Day for Group 8 students from the six public schools at the Dr. Alma Fleming-Rogers Care Center in Belvedere, Dutch Quarter.
After a short introduction by the Head of Public Education Glenderline Davis-Holiday, the Honorable Minister, Silveria Jacobs spoke to about 150 students present about the importance of having an internal fire in regards to their future.
"Do you know who you are?" Minister Jacobs asked the students in the crowded student hall. "Every day is a new day. You can become whomever you want to be. You can decide who you want to be. Some of you may want to become a business person, a dancer, a musician, an artist, a doctor, a nurse or a teacher. You can become whatever you wish to become. Nobody can become that for you. You have to ask yourself: 'Where will you be in the future? Who do you want to be?'" –these are important questions, the Minister asked.
Minister Jacobs further gave a description on her personal journey, education, and the challenges she faced, noting that giving up is not an option, but keeping the fire burning, and continue to working hard to achieve your dream.
"Dig deep within yourself, know who you are, what you love, figure it out, and become that person we know you can become," Minister Jacobs said. "Nothing happens without hard work in trying to achieve your dreams and goals in life. To help with achieving your goals, I encouraged you to write what your dreams are and keep it visible as a reminder to work hard to achieve such. Another advice that works is to surround yourselves with those who are positive, who provide encouragement, and propel you forward, especially when you feel like giving up. Though this advice may motivate you. Motivation is nothing without hard work."
Minister Jacobs then spoke about the important responsibility of being a St. Maartener. "You all are St. Maarteners, now and in the future, so when you finish your studies, we need you, we want you to come back home to St. Maarten to contribute to the growth of this country."
After the motivational speech by Minister Jacobs, the students were divided in groups and engaged in various activities, such as a paper plane competition, paint your own bulletin board, create your own rap about your future aspirations, and sporting events that enforce participation and acceptance to build their self-esteem and interaction skills with other students.
The day's events were assisted by gym teachers, music teachers, art teachers and class teachers while student guidance counselors observed.
Source: St. Martin News Network Ministry of Education holds motivation day for Group 8.