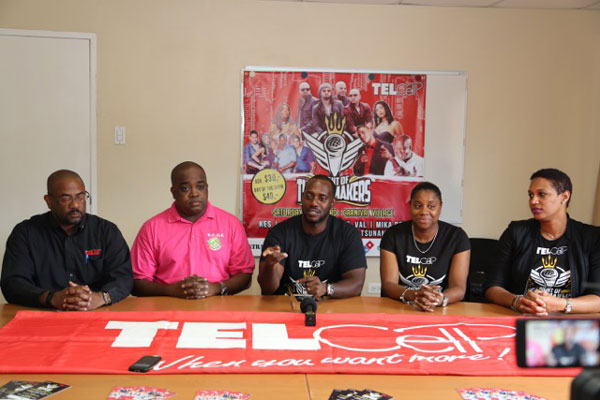 Pond Island:— TelCell Night of the Hit Makers is once again being billed at the premier, music event for Carnival 2016 – with positive endorsements from sponsors and St. Maarten Carnival Development Foundation (SCDF) alike.
SCDF Director, Michael Granger, expects the event to draw in thousands from all over the world, to St. Maarten's largest cultural event.
"I've known Mr. "Rude" since school days and he has always been serious and passionate when he sets his mind to make things happen the way he does every year by bringing the show to another level," said the SCDF Director, who also praised TelEm Group for being the main sponsor of the show and also of Carnival itself.
During a press conference held at the Festival Village last week, the show organizer and his team from Xtratight Entertainment, also thanked their main sponsor, TelCell, and introduced some new sponsors who are coming on board this year.
"We have a number of different performers coming on stage, some that we have been trying to get to St. Maarten for a long time, and now we finally managed it. We also have some classic acts that will really put our "famous" dance floor to the test this year," said Mr. Rude.
He said discounted tickets will go on sale for a limited time at the TelEm Group building before the end of the month and music fans can look forward to taking advantage of that offer – saving on the price of tickets at the gate.
During the press conference, TelEm Group representatives, Chief Technical Officer (CTO) Eldert Louisa, and Carnival Promotion coordinator, Grisha Marten, also expressed the hope that customers and members of the public generally will attend the event and experience another of the organizer's famous "Surprise" of the night.
According to Grisha, the company is currently running a phone sale promotion that offers a ticket for the Night of the Hit Makers show and tickets to four other Carnival shows. All carnival lovers have to do is purchase one of the new Kodak IM5 Smartphones and the tickets will be given as part of the promotion package.
Source: St. Martin News Network More sponsors, more artistes, more of everything when TelCell Night of the Hit Makers lights up Carnival 2016.