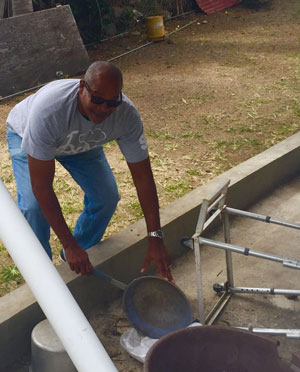 PHILIPSBURG:— The Zika virus situation on St. Maarten needs to be managed much better by the minister responsible for public health. It worries me that our population and visitors are being exposed to the unnecessary risk and according to the CDC (Centre for Disease Control) St. Maarten, whether French or Dutch, has been put on the list and pregnant women are being advised not to travel to our destination.
"I would have expected a more proactive and hands on approach from the Minister of Public Health. What he needs to do is follow exactly what I did with the Chickungunya situation and improve or tweak where necessary or just give me a call because I would be more than happy to assist in the interest of St. Maarten and exclude politics from this situation. He should be taking the initiative to meet with his French counterparts, coordinate fogging with them and go into the neighborhoods to inspect and inform households by identifying breeding grounds for the Aedes aegypti mosquitoes. Leadership from the minister of public health leaves much to be desired.
"The Pan American Health Organization (PAHO) / World Health Organization (WHO) recommends its Member States establish and maintain the capacity for Zika virus infection detection, clinical management and an effective public communication strategy to reduce the presence of the mosquito that transmits this disease, particularly in areas where the vector is present. This virus will not stop at the border – we must protect our population and especially the pregnant women. In addition, the minister needs to work with all ministries, especially the Minister of Tourism, to communicate with our stakeholders like the cruise industry and the SHTA/CHTA.
"There is something called an ovitrap which consists of a black cylinder with a piece of cardboard submerged into the water in a cup. Ovitraps mimic the preferred breeding site for container breeding mosquitoes and was initially designed for monitoring Aedes populations. Researchers found that if they provided artificial breeding sites, they could easily collect and study the eggs found in the container. Since the original ovitrap was invented, lethal ovitraps have been developed, which kill the larvae and/or the adult mosquitoes that enter.
"Ovitraps used for monitoring can detect Aedes mosquito populations thus acting as an early warning signal to preempt any impending dengue outbreaks Analysis can be done on the ovitrap breeding data collected weekly to identify mosquito breeding hotspots and risk areas when there is a danger of high Aedes infestation. This analysis is used to plan vector surveillance and control operations. Let us all roll up our sleeves and go into the field to fight the Zika virus together," MP de Weever concluded.
Source: St. Martin News Network Mosquito Prevention Measures — MP De Weever.