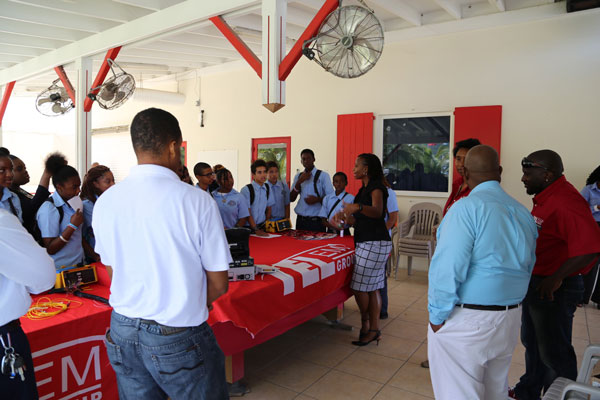 Pond Island:—- Students from Milton Peters College (MPC) paid a visit to the TelEm Group main building recently to learn about the company and also to quiz personnel about job opportunities at their favorite telecommunication provider.
The visit took place last week and involved two classes of senior students, now busy considering their career options.
The students were given a presentation outlining the type of work that is carried out within the company and the skill sets required for various positions. They also received a tour of the Earth Station to see some of the company's switching equipment in action.
Personnel, from the Human Resources, Finance & Accounting, Technical and IT Departments all made themselves available to talk about their respective functions and also to answer questions from the students.
Manager, Human Resources & Development, Mrs. Shadira Lont, said it was natural for students with a liking for figures to go the route of accounting or administration positions, while students who enjoy working in the field and doing hands-on work would have a preference for the Technical Department.
"I would encourage you to leave all your options open and to study hard so that you can make your own choice when the time is right," Mrs. Lont informed the students during the main presentation.
She recounted her own experience when she began in the Customer Care Department, and learned to meet and interact with customers while learning about the business and all the products the company had to offer.
According to Shadira, a career in the telecommunications industry in general and at TelEm Group in particular is worthwhile with many opportunities for growth for employees with drive and ambition.
She thanked all the students and their teachers for their attention and insightful questions and also the members of staff, including coordinator, Carmita Brooks, Elroy Hughes, Stanley Faneyte, Reuben Stevens, Lucien Hodge, Ralph Boirard and Veronica Browne, who gave up their time to provide the students with valuable information that they can use in making up their own minds about their future career goals.
"I would like encourage others to also share time well spent on such a valuable contribution to impact the lives of these young people," added Shadira.
Source: St. Martin News Network MPC students visit TelEm Group, quiz staff on job opportunities.