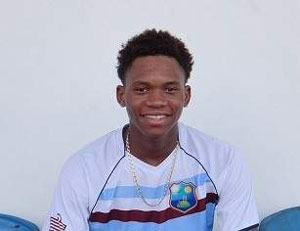 PHILIPSBURG:— NAGICO Insurances would like to congratulate our local youth cricketer; Keacy Carty who made history last Sunday on the international stage by scoring a match-winning unbeaten half century, which helped secure the Under-19 Cricket World Cup for West Indies in Bangladesh.
NAGICO says their entire organization; which has been a major supporter of Carty since he started his career in St. Maarten, is thrilled with his victory. "We are very proud of Keacy and his accomplishments, he has not only done himself proud, but has done the entire Country Sint Maarten proud," Dwayne Elgin; CEO of NAGICO Insurances. "He has proven once again that anything can be accomplished with hard work, dedication and focus and these are all qualities that we saw in Keacy when he started this journey years ago in the beginning of his career and these are the traits we encourage young people in the community to adapt."
Imran McSood Amjad; Chairman of the NAGICO Group and Chairman of Cricket St. Maarten and also one of Carty's mentor was also elated at the news and had high praises for the young cricketer. "This is indeed a proud moment for all of us, especially since we have been following Keacy's career from the onset," McSood said. "His accomplishment comes as no surprise as we know he is destined for great things. Keacy virtually grew up as part of NAGICO Cricket where I and his father Keith are the longest serving members. So we want to extend our heartiest congratulations to him and let him know that Cricket St. Maarten and NAGICO will continue to support him as he continues to strive for success. "
The West Indies produced an outstanding bowling performance to outclass India who made a meagre 145 runs in 45.1 overs. In reply, Keacy Carty scored a masterful 52 not out alongside Keemo Paul (40 not out) as the Windies chased down the total, reaching the target in 49.3 overs. This secured the West Indies claim to the Under 19 World Cup for the first time.
Source: St. Martin News Network NAGICO Insurances congratulates one of their star athlete