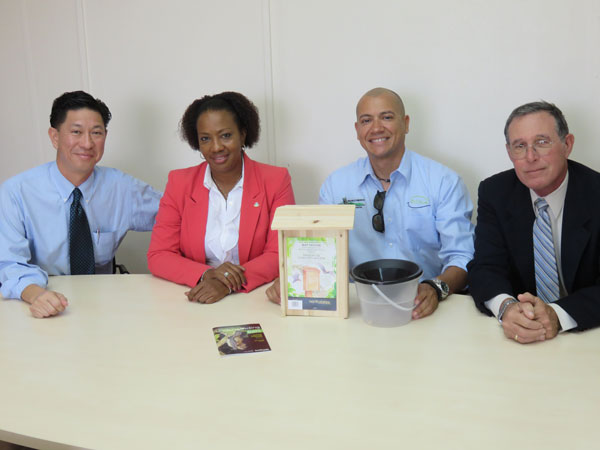 PHILIPSBURG:— Minister of Public Health, Social Development and Labour (VSA), Emil Lee approached the Nature Foundation St. Maarten for advice on sustainable and environmentally friendly measures to reduce disease spreading mosquitos and Director Tadzio Bervoets responded immediately.
In addition to eliminating mosquito breeding grounds, Mr. Bervoets came out strongly in support of the lethal ovitraps that Minister Lee promptly ordered for a field trial. These traps use a pesticide that is strong and effective and as it is contained in the traps does not get into the environment and kill other natural organisms that are part of the ecosystem.
Director Bervoets also presented Minister Lee with a bat house that will give St. Maarten's only native mammal a place to live as human development has reduced bats' native habitats. Bats eat thousands of mosquitos and it has been scientifically established that a healthy bat population significantly reduces mosquito populations.
Along with the bat house, which is made from natural wood, Mr. Bervoets also presented Minister Lee with easy to build plans for the houses. Minister Lee in the spirit of inter-ministerial cooperation requested the involvement of Minister of Education, Culture, Youth and Sports, Sylveria Jacobs. Minister Jacobs who fully supports environmental conservation, suggested that the students from St. Maarten Vocational School could build the traps for the Nature Foundation initiative and would look for business groups to donate the supplies.
In conclusion Minister Lee stated, "The war against mosquitos must be fought on all levels. Residents are called upon to get rid of breeding sites, which is any container that holds stagnant water, an uncovered or unscreened cistern or rain barrel must be dealt with, mosquito dunks should be placed in stagnant water pools and if you see a breeding site report it to the CPS hotline 550-CALL. This reporting hotline can also be accessed through WhatsAPP."
Source: St. Martin News Network Nature Foundation assists VSA with mosquito controls.