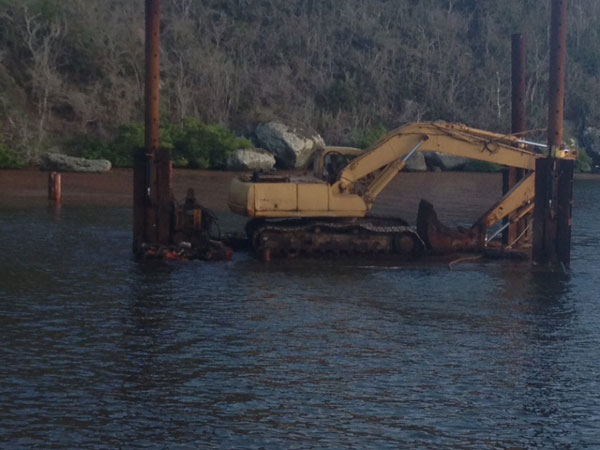 PHILIPSBURG:— The St. Maarten Nature Foundation has joined with residents and stakeholders in Oyster Pond in calling for the owner of a partially sunken barge that has been in the area for nearly a year to remove the equipment. The Foundation has noticed that the barge has been causing damage to the already significantly depleted sea grass beds in the area during surveys which were recently conducted in Oyster Pond.
Government Stakeholders have also been informed of the barge and residents and stakeholders of the Oyster Pond area have been complaining about its dilapidated condition in the Pond. Many vessel captains are concerned about the threat the structure poses to navigation and residents in Oyster Pond have been calling the dredge an eyesore.
"We are urgently requesting the owner of the barge to remove the equipment from Oyster Pond as soon as possible to minimize environmental effects in the area and to reduce the impact it may have in the Oyster Pond region. During tests we have noticed that the barge is causing quite some damage to an area of Oyster Pond that is already heavily impacted. We will continue with follow-up reports to the authorities on the status of the barge," commented Tadzio Bervoets, Nature Foundation Manager.
Source: St. Martin News Network Nature Foundation, residents are calling for removal of Barge in Oyster Pond.