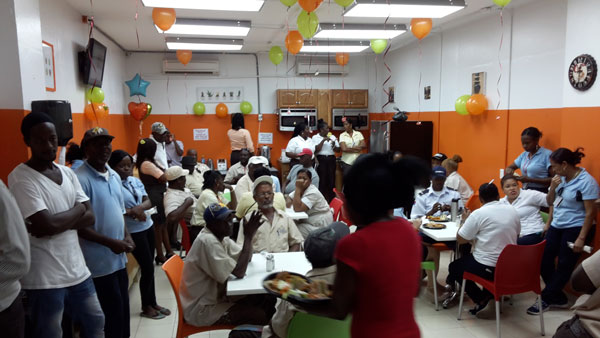 SIMPSON BAY:— The latest facility renovation at Simpson Bay Resort was designed to give the feeling of a mini-getaway for the Resort's staff and management. The new cafeteria is a designated functional space with clean lines and bright colors. Resort Directors were on hand for the cafeteria's inauguration last week, cutting the ribbon and serving food to Resort staff and management.
"While Simpson Bay Resort is committed to providing the vacation experience to guests," says General Manager Marcel Javois, " it is important to make sure employees feel like they are treated equally. The cafeteria is a way of giving back and thanking them for taking care of the guests."
"The former eating area did not feel like a real cafeteria," says Operations Manager Pedro Sanchez, Bright orange, red and green paint, chairs and wall art are meant to make the space feel separate from the working environment.
Currently there are the expected amenities for storing and heating food and drinks. Vending machines and food prepared by the on-site restaurant will also be on offer in the near future.
This week, Human Resource Manager Carmen Barran is also unveiling a calendar of activities for the staff base of about 160 which will be on display in the cafeteria. This includes getting to know the Simpson Bay area, a health event, housekeeping week, and the second annual Staff Appreciation Day.
Source: St. Martin News Network New cafeteria launched for Simpson Bay Resort staff.