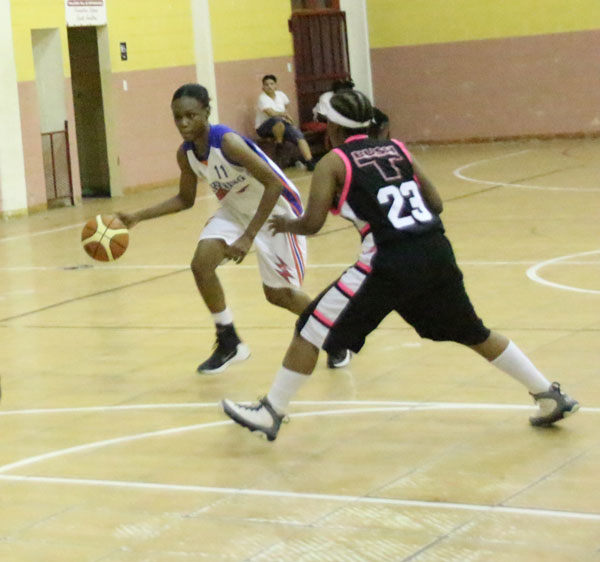 Sucker Garden:—- Week 11 of the Ladies Basketball Championship continued with 3 U16 games and 2 games in the senior division.
In the U16 division, Thunderz faced off against Lightning and won 15-8. Thunderz was led by Aisha Carty with 11 points and Lightning was led by Kayla Robinson with 8 points. In the second game, Thunderz won again versus Learning Unlimited by a score of 16-8. Quillesha Duggins led Thunderz with 14 points while Sarai Hernandez led Learning Unlimited with 6. In the last U16 game, Learning Unlimited came back from being down 10-5 to force overtime at 12-12. Learning Unlimited won the game 14-12 and was led by Aesha Gibson with 5 points. Lighnting was led by Jasmine Edouard with 7 points.
The first senior game of the day saw Learning Unlimited go up against Thunderz. Thunderz started the game strong and was up 22-5 after the first quarter, 40-20 at the half and continued to expand on their lead and won handily 90-40. Thunderz was led by Joyette Lloyd with 33 points and Claudia Fleming with 25 points. Learning Unlimited was led by Jakisha Brooks with 16 points and Sarai Hernandez with 7 points.
The second game of the afternoon saw Lightning taking on Bush T Remedy. This game was competitive throughout and had Bush T Remedy leading by 2 points at the half, 32-30. Bush T Remedy expanded on their lead with a big third quarter and went up double digits. Lightning fought back with tough defense in the fourth quarter after being down by 9 points with 4 and a half minutes left and ended the game with an 14-2 run to win 63-60. Lightning was led by Jamaiah Newton-Herbert with 45 points and Selah Fleming with 6 points. Bush T Remedy was led by Minelva Maduro with 22 points and supported by Shandria Lake with 15 points and Diasha Ferdinand with 11 points.
The senior division standings are Lightning and Thunderz at 9-2, Bush T Remedy at 2-9 and Learning Unlimited at 1-10.
Games continue this Sunday for senior teams at 3pm as Bush T Remedy take on Learning Unlimited and at 5pm as both #1 teams Thunderz and Lightning meet for a competitive game. Entrance fee is $1 and food and drinks are on sale, so see you next Sunday!!
Game Highlights, pictures, game scores and schedule can be viewed on the Facebook page 'Ladies Basketball Championship'. Highlights and full games can be seen on the Youtube page www.youtube.com/walichibasketball and short highlights can be seen on the Instagram pagewww.instagram.com/ladiesbasketballchampionship.
Source: St. Martin News Network Newton – Herbert scores 45 to lead Lightning to come back win and Lloyd & Fleming lead Thunderz to huge win.