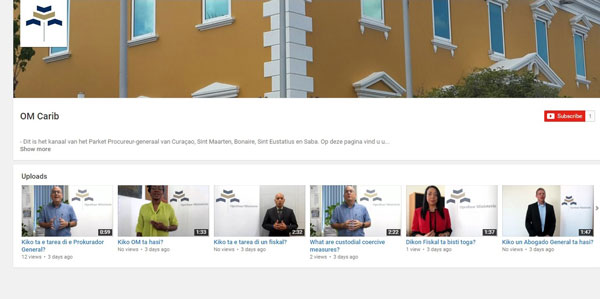 PHILIPSBURG:— The Public Prosecutor Services is as of today active on You Tube. This especially to reach youngsters ranging in age from 12 to 21 years and those of all ages interested. The You Tube-channel is called OM Carib en has already 20 video's. They give answers on the 10 most frequently asked questions regarding the Public Prosecutor's Services. Visitors from Sint Maarten, Curaçao and the BES-islands get answers in English and Papiamento on questions like; what does the Public Prosecutor Services do; what is the work of the Public Prosecutor; what are custodial coercive measures; what is the difference between the oath and affirmation; what is a dismissal; what are the duties of the Attorney General and why does the Public Prosecutor wear a robe. The answers are also available in Dutch on the website http://www.openbaarministerie.org/en/faq-en
De videos are presented by Attorney-general Leomar Angela, Prosecutor Monique Dennaoui, Prosecutor Guillano
Schoop, spokesperson Norman Serphos and assistant to the Prosecutor Altagracia Martis.
The Public Prosecutor's Services is already very active on social media with its website, Facebook for Sint Maarten, Curacao and BES-islands, LinkedIn and now on You Tube to better serve the public.
OM nu ook actief op You Tube met informatieve video's
Het Openbaar Ministerie (OM) is met ingang van heden ook actief op You Tube. Met name gericht op jongeren van
12 tot 21 jaar en geïnteresseerden van alle leeftijden. Het You Tube-kanaal heet OM Carib en telt 20 video's waarop
antwoord wordt gegeven op de 10 meest gestelde vragen bij het Openbaar Ministerie.
Jongeren op Curaçao, Sint Maarten en de BES-eilanden krijgen via You Tube in het Papiamentu en Engels antwoord op vragen als; wat doet het Openbaar Ministerie; wat doet een Officier van Justitie; wat doet de Procureur-generaal; Wat doet de Advocaat-generaal; waarom draagt een OvJ een toga; wat is een sepot, wat is het verschil tussen de eed en belofte en wat zijn vrijheidsbenemende maatregelen. De vragen zijn ook in het Nederlands te vinden op de website http://www.openbaarministerie.org/nl/faq
De video's worden gepresenteerd door Advocaat-generaal Leomar Angela, Officier van Justitie Monique Dennaoui, Officier van Justitie Guillano Schoop, woordvoerder Norman Serphos en juriste Altagracia Martis.
Het OM is reeds actief op 'social media' met een website, Facebook en LinkedIn en sinds deze week ook op You
Tube om zo beter de gemeenschap van dienst te zijn.
Source: St. Martin News Network OM now active on You Tube with informative videos.