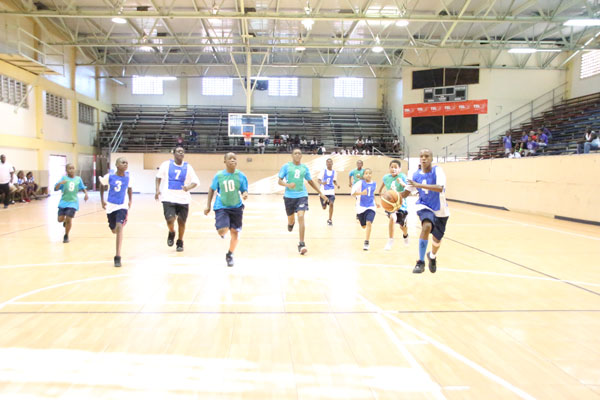 PHILIPSBURG:— Walichi Basketball Association, organizers of the Interscholastic Basketball Championship (IBC) will be hosting its award ceremony and all-star game to close of the successful inaugural season, tomorrow, March 2nd at the LB Scott Sports Auditorium.
Starting at 5pm, the event will start off with the championship trophy to the winning school, Ruby Labega Primary school and Sub-champs, St. Joseph Primary School. Further, ribbons for all participating players in the tournament, top academic player on each school team and various other awards and recognition will be given.
Following this, the all-star game will start which will showcase the talent that was displayed throughout the 6 weeks of the tournament. Two players from each team were selected to make up an all-star team of 10 players per pool. In total, ten schools, 20 young ballers will put on a show to parents, classmates, teachers and fans.
The rosters are:
Pool A
1. Alex Godoy (St. Joseph School)
2. Kayvaughn Schmidt (St. Joseph School)
3. Chamiqueko Landefort (MAC)
4. Sorius Henry (MAC)
5. Aiden Busby (Sr. Magda)
6. Clearance Arduin (Sr. Magda)
7. A'dondre Huggins (St. Dominic)
8. Carl Gomez (St. Dominic)
9. Shequan Illis (Sr. Marie Laurence)
10. Kendrick Mohamed (Sr. Marie Laurence)
Pool B
1. Ismael Gumbs (Ruby Labega)
2. Santiago Morales (Ruby Labega)
3. Omarion Arrindell (Martin Luther King Jr.)
4. D'Angelo Thompson/Bryan Guerrero (Martin Luther King Jr.)
5. Tyrese Whyte (Leonard Connor)
6. Drae Murray (Leonard Connor)
7. Kevenson Malivert (Hillside Christian School)
8. Jason Baxter (Hillside Christian School)
9. Rodrique Allen (Marie G. de Weever)
10. Zavon Stapleton (Marie G. de Weever)
Come out one last time to support these hardworking and skillful players until next season.
Source: St. Martin News Network Primary School Ballers To Display Talent In IBC All Star Game.