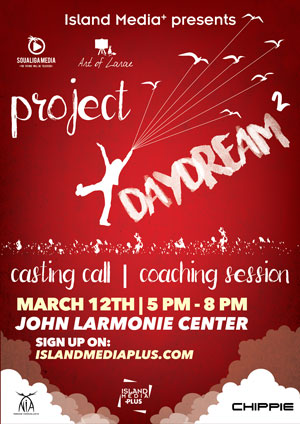 PHILIPSBURG:— Island media plus is having their second event planned for Project Daydream, an initiative created for all those wanting to express themselves through the art of acting on screen.
A few goals of this project include creating locally produce movies and mini series.
After having a very successful first round of auditions, where persons known to the acting world as well as those wanting to pursue it, used the 3 minutes allocated to them to document their first impression, participants will now have the opportunity to work on themselves with the first of many coaching sessions aimed at developing their skills.
"Going through the audition film and seeing the talent St. Maarten has been housing and not showcasing has only sealed our conviction. Scheduling coaching sessions in between auditions is more than logical—it's expected. Those who auditioned can learn and build their talent. Having someone who actually knows what to look for and how to give useful feedback can only steer things in the right direction." Latoya Lake, Island media's representative commented when asked about their project.
The evaluators for the first casting call were instructed to focus on different aspects during auditions like diction, projection, range and of course being able to sell their portrayed character. Clara Reyes of the National Institute of Arts alongside Laser 101's morning radio host Kevin "Suppa Kid" Petrona and Amanda Vital of the Toastmasters, were kept busy with the steady flow of talented hopefuls.
The coaching sessions planned for this time around will also have instructors who are more than familiar with the field and promises to have a positive impact on participants.
"Everyone involved understand the dream and goal and wants this to work! The team is very enthusiastic and passionate about the project. That passion becomes infectious making other creative and artistic people want to be a part of the project and they are more than welcome. It will be exciting to see where it goes!" Ms. Lake further states. That's a good thing because this production has the potential to create new avenues of highlighting the talent on St. Maarten. Another one of Island Media's goals is to enter some of their projects into film festivals within the Caribbean and internationally.
Latoya also took the time to thank organizations like UTS and Nia for helping them out, and was hopeful others would follow.
The event is planned for this coming Saturday March 12th, at the John Larmonie Center in Philipsburg from 5:00pm-8:00pm. Participants whom have not been able to audition will be granted the first hour to do so. After that, the coaching sessions will begin. Those registered are advised to make the necessary arrangement in order to follow the classes provided. Coaching sessions are for everyone registered and those wanting to take part in the project.
Registration for auditions and coaching must be done online at. www.islandmediaplus.com. "This is the start of something new and exciting that can potentially open up a different industry on the island. We just need to step up to the plate.
Enough dreaming. Here is the opportunity. Let's make things happen."
Source: St. Martin News Network Project Daydream Social Event.