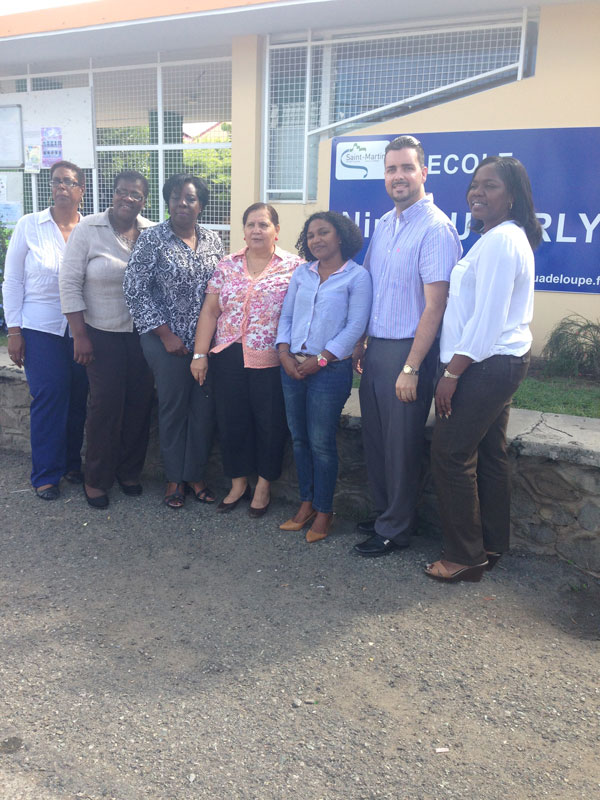 PHILIPSBURG:— Five School Managers of the public education schools on St.Maarten visited their counterparts on the French side this morning.
"It truly was a unique learning experience as it enabled us to see first hand how primary education is established on the French side," remarked Stuart Johnson School Manager of the Dr. Martin Luther King Jr. Primary School.
"History was surely made today and barriers broken as this type of working visit has never been done in the past where corperation was sought in this regard within education," Johnson added.
The other public school managers that participated in this special working visit was School Manager Sonia Parotte-Warner of the Oranje Primary School, School Manager Esther Jeffers-Connor of the Ruby Labega Primary School, School Manager Alice Samuel of the Leonard Connor Primary School and Adjunct School Manager Sandra Mathew-White of Marie Genevieve De Weever Primary School.
The working visit included a lengthy discussion and site visit with Director Ms. Carel Rita of Nina Duverly School as well as a complete site visit of Nina Diverly with Director Prudent Joselyne.
"Key structures found within the two French primary educational institutions which grabbed our attention was the overall cleanliness, the front entrance procedure, the autistic classrooms, the library and canteen facilities," Johnson said.
The site visit was arranged with special appreciation to Ms. Francillette Joelle who is a Professor for specialized schools at Emile Choisy.
"I deeply appreciate the immediate positive response I got for this working visit and thank our counterparts deeply for their transparency in our discussions," Johnson concluded.
Source: St. Martin News Network Public School Managers visit French side counter-parts.