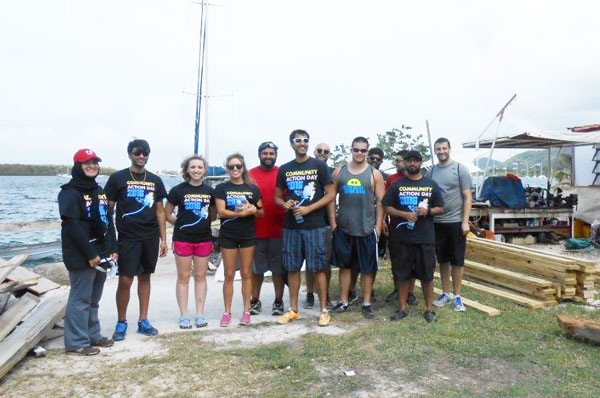 PHILPSBURG:— After the destruction caused by Hurricane Gonzalo, the dock at the Red Cross St. Maarten was no exception to the hurricane's fury. The dock was used by persons with private boats and a small fee was charged, so one can imagine how challenging it has been for the organization as this was a source of income.
After assuming new management, one of the goals among many, was to restore the dock, and thanks to the many volunteers of the Red Cross St. Maarten and the American University of the Caribbean School of Medicine this was accomplished on March 12th, 2016.
Red Cross is an internationally known organization, whose goals are to "to prevent and alleviate human suffering wherever it may be found, to protect life and health, and ensure respect for the human being, in particular in times of armed conflict and other emergencies, to work for the prevention of disease and for the promotion of health and social welfare, to encourage voluntary service and a constant readiness to give help by the members of the Movement, and a universal sense of solidarity towards all those in need of its protection and assistance". We at Red Cross St. Maarten are proud to be celebrating our 40th Anniversary this year, with activities geared to promoting and bringing awareness to the general public on the importance of not only giving back to the community but being able to save lives.
Stay tuned for further announcements as we celebrate this milestone in recognizing the importance of the organization and the possibility to going forward by giving back. This concludes the press release.
Source: St. Martin News Network Red Cross St. Maarten restores dock.