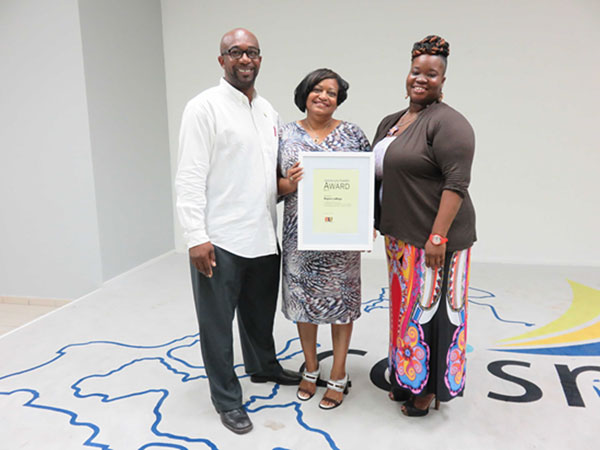 MARIGOT/GREAT BAY:— Airport and tourism industry leader Regina LaBega received the Conscious Lyrics Foundation Personality Award 2015, at the Chamber of Commerce Building in Marigot, on January 15, 2016.
LaBega received the award at the 29th edition of the Dr. Martin Luther King, Jr. Lecture, which was organized by Conscious Lyrics Foundation (CLF), said Shujah Reiph, CLF president.
A "surprised" LaBega was presented with the annual award for "outstanding contribution to the people of St. Martin as Managing Director of SXM Airport," said Reiph.
"The work of Ms. Regina LaBega at SXM Airport, leading her team of SXM personnel; involving SXM in the life of our island community as a model corporate citizen; the ongoing modernization of SXM; its hub developments; and increasing SXM's international competitive edge, all on her watch, have made media headlines in 2015," said Reiph on Tuesday.
Last Friday LaBega received her award before an audience of about 250 people at the MLK, Jr. lecture program, said Reiph. Dr. Dale Manuel delivered the lecture, which had as its theme, "Engaging Ourselves in Building Better Communities."
The "community action" category of the Personality Award 2015 was dedicated to "the hundreds of people who stood up in the streets of Marigot on October 22, 2015, demonstrating against the PLU or Urban Land Reform," said Reiph.
"This is the 20th year of the CLF Personality Award, which is presented as a part of the MLK lecture program. It is always a surprise to our awardees," said Reiph. Past personality of the year awardees include Clara Reyes, Francois Carty, Jonas Wilson, and Positive Foundation.
Source: St. Martin News Network Regina LaBega receives CLF Award 2015.