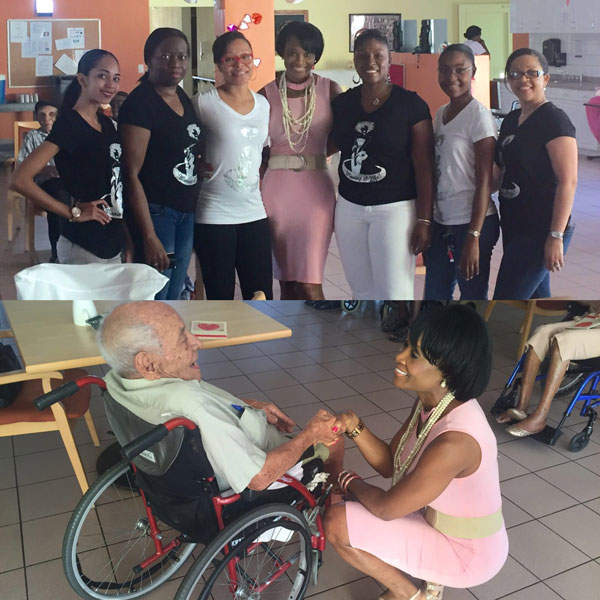 PHILIPSBURG:— On February 13th, 2016 SCELL, The University of St. Martin's School of Continuing Education and Life Long Learning, the birthmother of the Women's Island Network (WIN), held its first WIN community event at the St. Maarten Home for the Elderly located in St. Johns and celebrated Valentine's Day with the residents.
WIN was founded in August 2015 by Dr. Natasha J. Gittens, Ph.D. CHE. Director of SCELL based on her vision to organize a consortium of powerful women on the island to embrace and mentor young women and empower women as a whole to pursue educational opportunities at USM/UVI that will directly increase student enrollment at USM.
WIN's event was the perfect mix of love and dedication, eloquently balanced on behalf of the WIN Board. The week prior to the event, WIN Board Members established a new program referred to as WIN Ambassadors. The Ambassadors are a mix of young men and women, high school age, preparing for university enrollment in the near future. WIN will provide the Ambassadors with mentoring opportunities and guidance to both prepare and support their decision to pursue degrees at the University of St. Martin and the University of The Virgin Islands at St. Maarten. The Ambassadors collaboratively made homemade Valentine's Day Cards for the elderly the weekend prior to present to the residents of the home this past Saturday. Each resident received a homemade card and enjoyed Caribbean music by a DJ, provided by WIN for the event. The WIN Members and the Ambassadors engaged with residents one on one and danced the afternoon away.
The staff and residents had a positive reaction to the event and stated:
"This is a very good incentive by the WIN Organization. This shows alot of love, joy and respect towards the elderly, please keep coming back with the students. These students are examples of how other students should respect themselves and others." Lorna Goldin. Nursing Assistant
"I give all praise to the TOP our Lord Jesus Christ for this Organization! I would have expected this visit only from churches and not from an Organization, All praises to God! Enid Bradshaw (Elderly Resident)
"It's nice to know that young people remember the elderly." Claris Hodge (Elderly Resident)
SCELL Director, Dr. Gittens stated: WIN's President, Marilyn Cronie is a born leader and WIN's Vice President Adelena Schapp is a visionary. With their passion for education and dedication to supporting Women's educational advancement at USM/UVI, WIN will soar to heights unimaginable and change the lives of both woman and community members in high numbers over the next several years.
Become a part of WIN a vibrant professional women's group or to become a WIN Ambassador, email tia.thompson@usmonline.net or call 554-2437. You can also visit the SCELL website @ http://scell.usmonline.onl/.
Source: St. Martin News Network SCELL Program W.I.N. Brings Valentine's Day to Elderly.