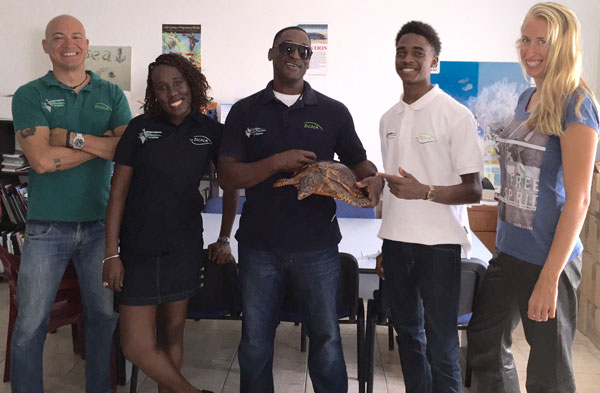 PHILIPBURG:— The Sint Maarten Nature Foundation, through the support of the Dutch National Postcode Lottery, has increased its operational capacity from three to five staff members. "Because of a small funding grant we successfully received from the Dutch Caribbean Nature Alliance Save our Sharks Project through the National Postcode Lottery we have been able to hire two new staff members at the foundation, which is a huge boost to our operational capacity. For more than five years we had only three members of staff which is way below what we should have. But we have always been fortunate to have a dedicated and committed staff with an equally dedicated and committed Board," commented Tadzio Bervoets, manager of the Nature Foundation.
Joining the Nature Foundation are Projects Officer Melanie Meijer zu Schlochtern and Ranger Trainee Xavier Illidge. Melanie has a Master's Degree in Ecology from the VU University in Amsterdam where she specialized in Systems Ecology. She is also a certified Divemaster and Small Boat Operator. Melanie has had previous experience as the Conservation Officer for the Saba Bank National Park and during research internships on Conch Ecology in St. Eustatius. She will be involved with the Shark Conservation Program as well as with Marine Park related activities and conservation projects of the Foundation.
Xavier Illidge is currently working on his GED diploma. He is a certified diver and in training to become a certified boat handler. He is active in all aspects of both the Nature Foundation office as well as in the Marine Park and in terrestrial conservation activities.
Xavier and Melanie join with Marisa Dyer-Brandy, Nature Foundation Office Manager; Etienne Lake, Nature Foundation Chief Ranger; and Tadzio Bervoets, Nature Foundation Manager as Nature Foundation Staff. The Nature Foundation is overseen by an involved and dedicated Board of financial and legal experts, marine industry professionals, biologists, educators, conservationists and philanthropists who receive no finances for the significant time they invest in the Nature Conservation Organization.
Source: St. Martin News Network Sint Maarten Nature Foundation Introduces Two New Staff Members.