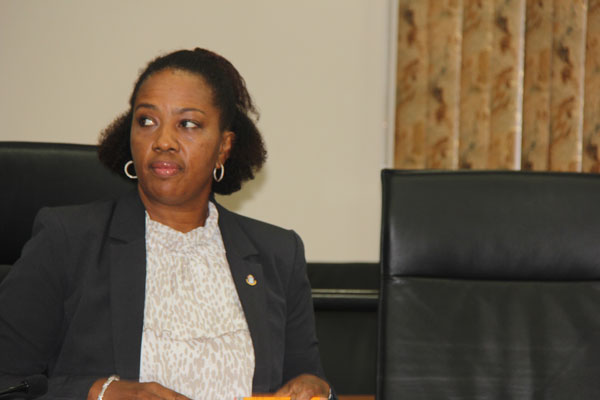 Government preparing take NIPA board members to court.
PHILIPSBURG:— Minister of Education, Sports and Youth Affairs Silveria Jacobs announced on Wednesday that the Council of Ministers gave instructions to the finance department temporarily suspend the subsidies for NIPA (SOB) school. The Minister said that government have been trying to obtain the financial statements from NIPA board (AVE) but so far they have been unsuccessful. She said that even the meetings called by government to meet with the members of the NIPA board (AVE) did not take place because the board asked that the meeting be postponed. Minister Jacobs said in light of the lien that was placed on the building by an employee that has to be paid due to a Court Order and that the institution lost yet another case the Council of Ministers have decided to take additional measures in order for the board to comply.
Minister Jacobs said that NIPA was given another deadline to submit their financial statements and if that is not done the subsidies for NIPA will be suspended temporarily until further notice, this she said might force government to stop the advanced subsidies since the AVE board is not cooperating with government.
Minister Jacobs further explained that government also requested SOAB to audit the AVE (NIPA). Minister Jacobs said if NIPA does not submit their audited financial report by the due date, then the subsidy will be stopped permanently.
Another step government has taken was to have the inspectorate conduct an investigation at NIPA. The Minister said that based on the contents of the report the institution is not performing optimally. The report she said was sent to the AVE board for comments but they have not responded.
The Minister of Education further explained that they are in discussions with their lawyers, and one of the options government have is to take the members of AVE board to court and hold them personally liable.
She assured that the Ministry is not neglecting its duties when it comes to NIPA because the school is very vital to the country and students.
203 students requested Study Financing.
Minister Jacobs also announced that some 203 students submitted applications for study financing. Of the 203 some 140 students indicated that they will be studying in the Region, while the remaining 63 will go to Europe.
Source: St. Martin News Network SOAB to conduct audit at NIPA — Government suspend subsidy.