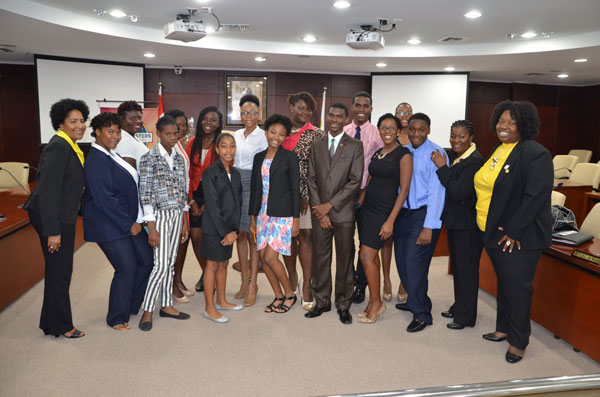 PHILIPSBURG – The Soualiga Elite Youth consist of members of the Sint Maarten Youth Parliament and PEP foundation, in collaboration with the coordinators of this organization we saw great potential and we were elated to give this Toastmasters International Youth leadership training to these youths under the umbrella of Soualiga Corporate Toastmaster Club.
The youth leadership training is a recognized program by Toastmasters International and this training helps young people build their communication and leadership skills, so they may become tomorrow's Leaders in society.
This program has a unique eight-session workshop-style, designed to enable participants to develop these potentials, through practical experience, which will enable them to:
• Overcome nervousness when speaking before an audience.
• Organize and present ideas logically and convincingly
• Listen carefully to others' ideas
• Offer advice to help others improve their speaking and leadership skills
• Participate in, and even lead, group discussions in meetings.
We are very proud with the growth and confidence in these youth.
Soualiga Corporate Toastmaster Club thanks the parents and guardians of the members of the Soualiga Elite Youth for allowing them to participate in the sessions. The members are: YTM Nacirfa Bedminster, YTM Ian Fritz, YTM Déjeunique George, YTM Dwayne Griffith, YTM Alyzée Groeneveldt, YTM Kamilah Gumbs, YTM Jemila Holaman, YTM Rahim Leonard, YTM Daniella Maccow, YTM Vanessa Mathews, YTM Kimani Olivacce, YTM Mhakeda Shillingford, YTM Angelique Warno, YTM Jessica Weeks, YTM Aarin White and YTM Astra White.
Source: SMN News Soualiga Corporate Club Youth Leadership programs comes to an end with outstanding presentations by the Soualiga Elite youth.