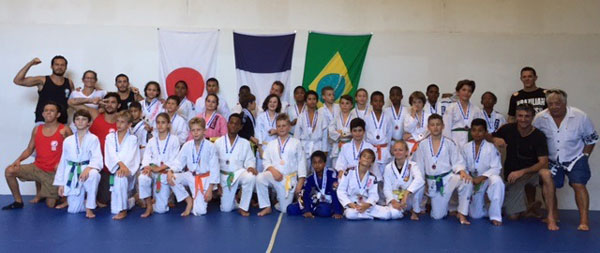 Young BJJ (Brazilian Jiu Jitsu) athletes ages 10-13 from both the Dutch and French sides of St Maarten/Martin traveled to St Barths on Saturday to compete in the first ever St Barths Open Kids tournament.
Over 40 students participated in the tournament. The Dutch side athletes represented Team Renzo Gracie SXM BJJ. Stand-outs of the tournament were SXM BJJ's Alyna Comlekcioglu. Alyna won all her matches via submission within 30 seconds. She earned double gold in the female 'absolute' category and the boys heavyweight category. Another tournament stand-out earning a gold medal in the boys 30-35kilo division was SXM BJJ's Kervin Robens Bernard who also won every match by submission.
25 kilo Adam Comlekcioglu took a silver medal (only losing 1 match on points to a much heavier and older opponent). Dubbed the 'people's champ' Adam earned the loudest applause of the day from the spectators and other athletes who were impressed by his bravery and toughness despite his small stature. SXM BJJ's Brunilio Bandin tied for 1st place and also earned a gold medal. Connor Scripps-Ewing who turned 10 last week also competed for the first time taking bronze and showed great heart and sportsmanship. All of the SXM BJJ's competitors earned a stripe on their belts, recognizing their hard work and improvement.
Head Instructor Melissa Bardfield is very proud of her students, not only for their dominant performances but for their sportsmanship, confidence and graciousness in both victory and defeat.
Local ferry provider The Great Bay Express sponsored the team's voyage; the 40 minute ferry was a smooth and enjoyable part of the trip. As a local company they should be commended for their support of our youth sports, making the trip financially possible for all the young athletes.
The matches were refereed by visiting Black belt Javier Valenciano and brown belt Juan Calderon of Athletic Advance Academy in San Jose, Costa Rica. The event was organized by St Barths Ju Jitsu head instructor Nicolas Harmage.
For more information about Brazilian Jiu Jitsu classes in Cole Bay visit www.sxmbjj.com or www.facebook.com/sxmbjj.
Source: St. Martin News Network St Barths Kids Open BJJ.