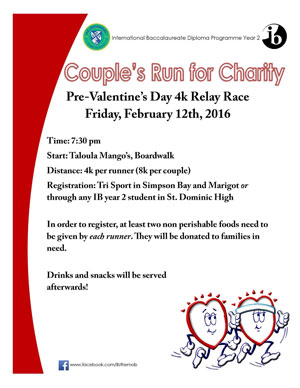 PHILIPSBURG:— The St Dominic High School International Baccalaureate Diploma Class of 2016 is hosting a COUPLE'S RUN FOR CHARITY on Friday, February 12th, 2016, at 7:30 PM in front of Taloula Mango's on the Boardwalk in Philipsburg.
It's almost Valentine's Day and the students (class of 2016) of feel it is necessary to spread the love especially those who are in need of it. The IB Class of 2016 needs your help to make Valentine's Day better for more people. Thus, as part of their CAS (Creativity, Action and Service) curriculum objectives they are organizing a relay race for couples which can be significant others, two friends, neighbors – anyone with two legs who is willing to show their love. The objective is for the couple to complete 8 kilometers. The first partner does a 4k, then the second partner does the same 4k. Registration can be done at Tri Sport in Simpson Bay or Marigot and at St. Dominic High School through any IB year 2 student. Participation is easy – to sign up, you just need to donate 2 non-perishable food items. All the collected items will be donated to families on St. Maarten that are in need of some extra Valentine love.
CAS is a core program within the International Baccalaureate Diploma Program which encourages inquiring, knowledgeable and caring lifelong learners through development of personal skills, open mindedness, and intercultural understanding and respect. Students plan activities based on eight learning outcomes they are expected to achieve. They need to be cognizant of how the proposed activity will increase their awareness of their strengths and areas for growth, whether or not it will be a new challenge or unfamiliar activity, show how they planned the project, worked collaboratively with others, demonstrated perseverance and commitment, engaged in issues of global importance, considered the ethical implications of their actions and developed new skills.
The Pre-Valentine's Day Couple's Run for Charity will be the Class of 2016's capstone project satisfying the final CAS requirement for their IB Diploma. So come out and help them to spread the love!
Source: St. Martin News Network St. Dominic High School holding Couple's Run.