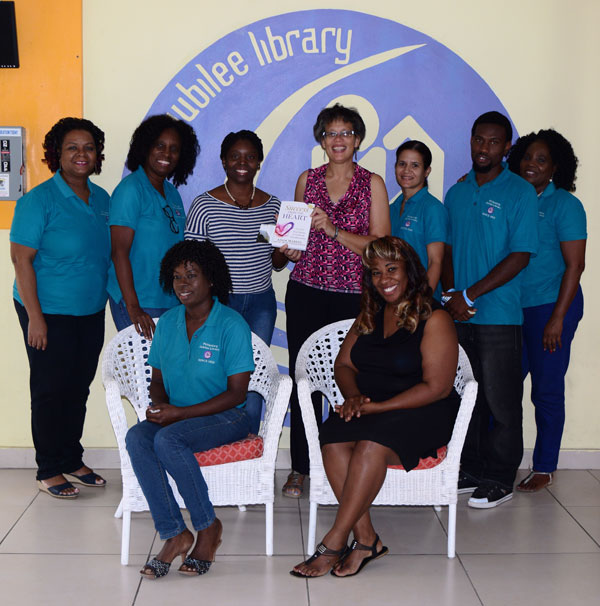 PHILIPSBURG:— Author, success coach, motivational speaker, and marriage and family therapist, Dr. Nicole Erna Mae Francis-Cotton was recently at the library to present her new book entitled "Success from the Heart" to the Director and staff of the Philipsburg Jubilee Library. Commissioned by the largest personal development company in the world, New Peaks, "The book documents the personal journeys and transformation of thirty-five diverse entrepreneurs from around the world, including myself, and will inspire people to go after their dreams," noted author Francis-Cotton.
The first set of "Success from the Heart" books distributed to Party Extravaganza in Marigot was sold out within a couple of hours. The books are available at Party Extravaganza, Family Book Store, all Ship wreck Shops and Van Dorp Eddine stores, Jezel Shoes and Accessories Boutique and Victorious Living Foundation on Front Street.
The bestselling co-author will be hosting an inspirational and motivational book signing ceremony at the library on February 6th, 2016, starting at 11:00 am, which will include entertainment by St. Maarten's King of Sax, Connis Vanterpool and a presentation by the author. This free event is the first in the library's Black History Month series for 2016 and is in collaboration with the Jubilee Library. You are invited to bring your book to be signed if you've already bought your copy, or purchase your copy at the event. For more information you may contact 1-721-524-8731 or e-mail lifecoach@victoriouslivingsxm.org.
Source: St. Martin News Network Success from the Heart book signing – Saturday Feb 6th.