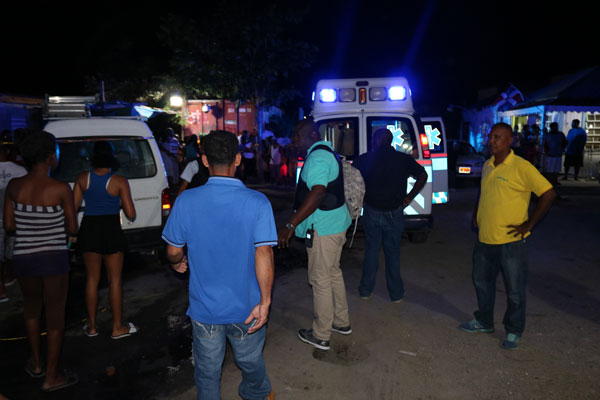 Sucker Garden:— Several police, detectives and members of the Forensic team of KPSM rushed to Sucker Garden Monday evening in the vicinity of Rainbow Supermarket when they were informed of a shooting at a home that left one man dead.
Police Spokesman Ricardo Henson confirmed that one man is dead in house. Henson said he is currently gathering information on the latest shooting. Several residents and bystanders gathered at the scene creating some confusion as police try to piece together what transpired and how the victim got shot. Residents who spoke to SMN News said emotions were running very high as the victim is well-known businessman.
Residents in the area identified the dead man as "Piasano" a national of the Dominican Republic who has been residing on St. Maarten years now, they said the victim is known for buying old batteries and copper and export it overseas for sale. SMN News further learnt that the shooters entered the home from the back of the building and it appeared more like an armed robbery that went chaotic.
Man shot dead in Sucker garden
The Detective Department is presently investigating a shooting near the Rainbow Supermarket on the Marlin property in Sucker garden. The first call came just after 07.00 p.m. at the Emergency Dispatch informing them of a shooting at that location. Immediately police patrols, Detectives and paramedics were sent on the scene to investigate what had taken place.
On the scene the investigating officers and paramedics found the male victim laying on the floor in his home shot. He was not showing any signs of life. Paramedics tried to revive the victim without success.
Immediately the area was closed off for Forensic to collect evidence. Detectives on the scene are presently speaking to potential witnesses to piece together what took place and who the person or persons are that are responsible for this shooting.
The identity of the victim has not yet been released. As more information becomes available the media will be informed as the investigation is ongoing.
KPSM Police Report
Source: St. Martin News Network Sucker Garden shooting leaves one dead.