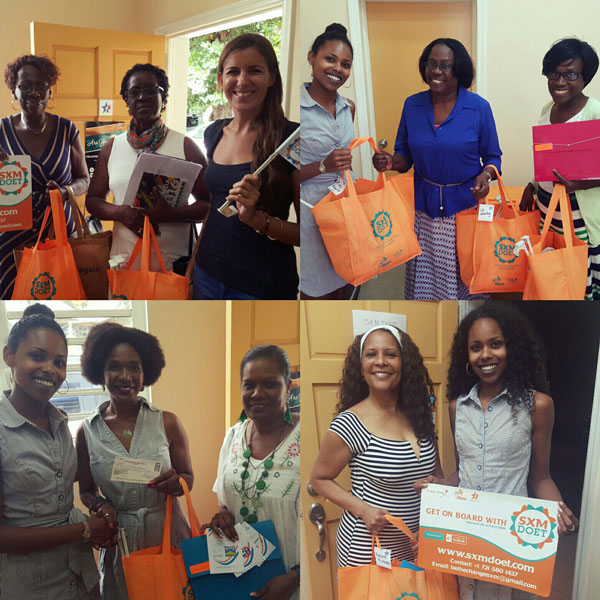 PHILIPSBURG:— Approximately 32 organisations have registered 40 projects to be executed during the Kingdom's and Sint Maarten's largest volunteer campaign: SXM DOET.
SXM DOET 2016 will take place on Friday March 11th and Saturday March 12th at various locations around the island. The initiative is executed locally by the Be The Change Foundation partnered with private individuals, and funded by the Oranje Fonds of the Netherlands.
On Friday February 19th, over 35 organisations participating in SXM DOET received promotional packages made up of helpful items for the proper execution of the projects and activities. The packages included vouchers from SXM DOET partners for exclusive offers and free materials; t-shirts, caps, and other accessories for the projects' volunteers; as well as flyers, posters, car flags, reusable tote bags to help recruit volunteers to their cause. Additionally, many of the organizations that applied for funding to receive up to $650 for their projects were approved by the Oranje Fonds.
Last year's SXM DOET was the first event of its kind with over 1,000 volunteers lending a helping hand at over 30 projects and activities around the island. The SXM DOET team and volunteers expect 2016 to be even bigger and better. Organisers would like to remind everyone that: "SXM DOET cannot happen without you!"
Projects are filling up and many are already "closed" by having reached the full amount of volunteers required to complete the project. Nevertheless, some very intriguing projects still need volunteers to sign up and help them out. Signing up is very easy and can be done online. To get involved with SXM DOET and help make a positive change in your community on March 11 and 12, simply go to www.sxmdoet.com and sign up to a project.
This year there is a wide array of diverse projects such as: donation drives to feed the needy, environmental cleanups, greenhouse construction for edible gardens, fun activity days for our underprivileged and special needs communities, animal welfare initiatives, beautification projects and so much more. SXM DOET organizations must come up with projects that are beneficial to their own cause that require tasks that the organizations could not otherwise do, due to lack of resources. By registering to participate as a volunteer, in just two days you can help make a profound difference for selfless organizations that already do so much for our community.
Exhibiting great corporate social responsibility are many local businesses that have partnered with SXM DOET thus far, including Heavenly Water, Kooyman, Divico Distributors, Greenfingers, Cake House, Easy Print, Firgos, Laser 101, and RMG Designs.
The SXM DOET Project Team is looking forward to another successful edition of SXM DOET. Make an effort to volunteer during SXM DOET on March 11 and 12 and contribute towards making a positive change on St. Maarten, as 'together we achieve more'.
For further information please contact the SXM DOET Project Team by emailing info.sxmdoet@gmail.com or by calling +1 721 580 1437.
Source: St. Martin News Network SXM DOET: Participating SXM DOET organisations receive promotional materials and funding.