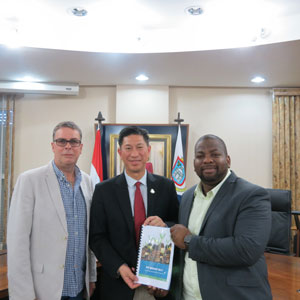 Managing sustainability of the funds
PHILIPSBURG:— On Thursday March 31st, 2016 Social and Health Insurances (SZV) submitted it's 2017 Budget to the Minister of Public Health, Minister Emil Lee for review and approval. The proposed budget includes continued efforts to control costs and identify opportunities for efficiencies in managing the sustainability of the various funds in SZV's portfolio. SZV was very pleased to have had the budget submitted before the deadline of April 1st as dictated by the law, a historical moment as this deadline was not yet obtained in the past. Achieving this milestone will enable the organization to swiftly move forward with the required steps to reduce the burden on the limited revenue, activate improvements with respect to transparency and accountability and improve services rendered to customers.
"Budgets are an important part of financial management. Receiving the 2017 budget in a timely manner is an important step in SZV's development strategy, which allows for financial planning in a proactive manner. The board and management deserve recognition for submitting their budget on time; the first time in the history of SZV." – Emil Lee, Minister of Public Health.
In 2015, SZV conducted an 'Asset Liability Management' study of the various funds. The effect of changes in the collection compliance, cost indexation and investment portfolio may have on the long term sustainability of each managed fund was investigated through this study. With these results SZV has determined several measures and strategies that will help in maintaining the financial sustainability of each fund; this will be the main focus of the 2017 budget.
SZV is currently implementing strategies that may reduce shortages within the next four to five years. One of the main strategies is the automation of the healthcare sector and the SZV processes that are related thereto. This will result in higher efficiency and combat fraud, which will consequently contain costs on the long run. Another main strategy is to invest in collection compliance which will lead to a significant increase of its revenue benefiting notable shortages.
"I'd like to thank our Supervisory Board for helping us submit the budget on time. Besides working on compliance to increase the revenues, we believe that embracing sustainability practices is crucial to long-term growth and positive development outcomes for the funds. Our commitment is to assure the financial sustainability of all funds, by understanding, measuring, and managing the risks we take when investing locally and abroad." – Glen A. Carty, Interim Director of SZV
With regards to the quality of service to customers, SZV is committed to invest in new ways to improve customer satisfaction and communication tools as well as reduce the administrative burden of our customers as much as possible.
Source: St. Martin News Network SZV Submits 2017 Budget to VSA.