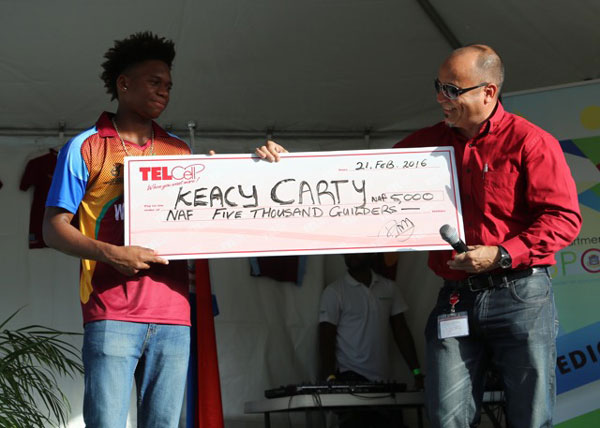 Pond Island:— TelEm Group Chief Commercial Officer (CCO) Mr. Brian Mingo urged the St. Maarten community to continue supporting the company and expect to see returns in more support for sportsmen and women and sporting activities on St. Maarten.
Mr. Mingo made the comment during a presentation to local cricketing hero, Keacy Carty, at the Caribe Lumber ballpark, Sunday.
"As a good corporate citizen we believe in supporting our youth and in particular our youth who take part in sports," said Mr. Mingo.
"You can help us by keep making calls and using our services, so that we can support our sporting heroes in the future," said the Commercial Chief.
Mr. Mingo said after the presentation of the NAF 5,000 cheque, that he took great note of the appeal of several speakers for corporate business to play their part in the support of sports and sporting activities on the island.
"Our track record speaks for itself as the main sponsor of inter-schools soccer and our contributions to several other sports organizations throughout the island, so we are very encouraged and pleased to have made this donation to Mr. Carty for doing a great job," said Mr. Mingo
He said it's not rocket science to work out that the more business the company does the better position it is in to support worthy and exceptional causes.
"We are a company with a proud heritage of giving back to the community, and the better we do as a business the more we can given back, it's as simple as that," said the Commercial chief.
Source: St. Martin News Network TelEm Group commercial chief Brian Mingo tells community: Make calls and more support will come for local sporting heroes.