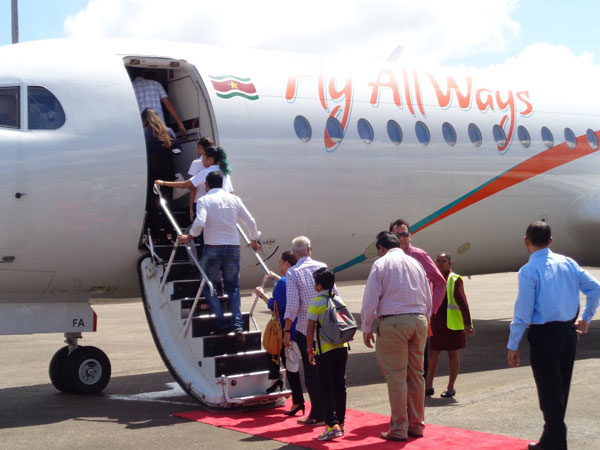 SURIAME/St. Maarten:— Fly Allways is a young dynamic airline company which has a vision to connect South America with the Caribbean. The company has a fleet of Fokker F-70 jet aircrafts with a seating capacity of 80 comfort seats. The seating configuration is spacious and gives enough leg space for customers. These aircrafts are known to be fast and very accurate and ideal for flights operating within the region.
For the last couple of months the management of the company has been busy finalizing studies and working on developing new routes. Even while this flight is still a charter, Fly All Ways will soon start with scheduled routes from Paramaribo, Georgetown, St. Maarten and vice-versa. These direct flights will offer much comfort to the Caribbean population. The inaugural flight that will land on St. Maarten on Thursday is a direct flight from Parimaribo.
Source: St. Martin News Network The new Suriname airline company "Fly All Ways" makes inaugural flight on Thursday the 25th.