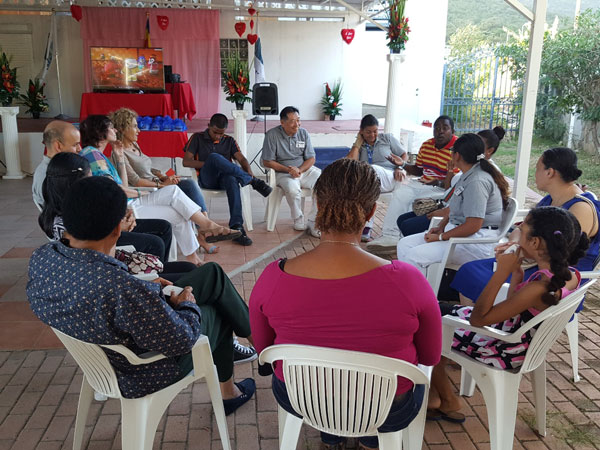 PHILIPSBURG:— The St. Maarten Tzu Chi Foundation presented its volunteers with a personal token from Tzu Chi Founder Master Cheng Yen during a recent tea party celebration at its L.B. Scott Road location.
The token known as Hong-bao or red envelope is symbolic of Master Chen Yen's best wishes to volunteers for the New Year and expresses her deep appreciation, gratitude and affinity to Tzu Chi volunteers worldwide for their contribution in developing its four missions: charity, medicine, education and humanistic culture.
A total of 34 volunteers attended the celebration and were each presented with a Hong-boa.
The event included an ice-breaker and volunteers sharing their individual experiences being with the Tzu Chi Foundation and what this means to them in an effort to encourage affinity amongst members.
Attendees were also treated to a video presentation highlighting the contributions that the various Tzu Chi Foundation branches around the world had made in 2015 in Taiwan, Haiti, the Philippines, Namibia, Botswana, Swaziland, Syria, USA, Canada and in other countries.
A second video highlighted the contributions made by the St. Maarten chapter in the local community in 2015. These included the monthly visit to St. Martin's Home for senior citizens, the annual visit to the Pointe Blanche Prison, participation in the Lion Rudy Hoeve Health and Wellness Fair, participation in the Catholic Cultural Food Sale, the International Coastal Cleanup, the triple celebration of Mother's Day/Buddha Day/Tzu Chi Day, clean up at All Children's Education (ACE) Foundation school, charitable donations to persons in need within the community amongst other charitable works.
A brief history of the origin and significance of the Tzu Chi Hong-bao was also explained following which Tzu Chi Commissioners Sandra Cheung and her husband Kit-Wing Cheung presented each volunteer with their personal Hong-bao as well as a gift package.
Volunteers were then treated to a sumptuous buffet-style vegetarian meal and desserts especially prepared by the attending volunteers.
Several volunteers said they enjoyed the event. Volunteer Santosh Aaudha Chhabria said it was blissful for him to see Tzu Chi volunteers get together to get to know each other even better than before. "This event was one of the best events for the Tzu Chi family to be more united and enjoy the company of each other. It was a great experience," Cchabria said. "And the best part was that we counted our local and international achievements of love… This event really made a strong mind of all volunteers to be more focussed (so that we can) suggest to our near and dear ones to also join hands and make this family even bigger."
Volunteer Roger Yee-Fong said the event demonstrated Master Cheng Yen's best wishes for the New Year and her deep gratitude to all the Tzu Chi volunteers worldwide for their continuing service to their respective communities.
Another volunteer, Margaret Steeman, who took three guests to experience the event, said one of her guests felt the event had been "impressive" and all three guests were so touched that they decided to donate to help the foundation continue its work in the community.
Source: St. Martin News Network Tzu Chi presents volunteers with personal token from founder.